Whether you're serving vegan guests, or just need some easy egg-free & dairy-free ideas, these Vegan Thanksgiving recipes have you covered. There are plenty of main dishes, sides, and desserts to create a delicious plant-based feast!
Delicious Vegan Thanksgiving Recipes
Whether you're dipping your toes into a vegan diet, or serving a guest who needs recipes made without meat and dairy, these recipes will make it easy to create a vegan Thanksgiving dinner.
Made with real food ingredients, you won't need any exotic ingredients for your next Thanksgiving feast. Even non-vegans will love these!
Vegan Appetizers & Starters
Vegan Spinach Artichoke Dip
This dairy-free dip tastes just as delicious as the kind made with cheese and heavy cream, but it's made with cashews for creaminess. Serve it with crunchy tortilla chips, crackers, or sliced veggies for an easy snack while your guests wait for the main meal.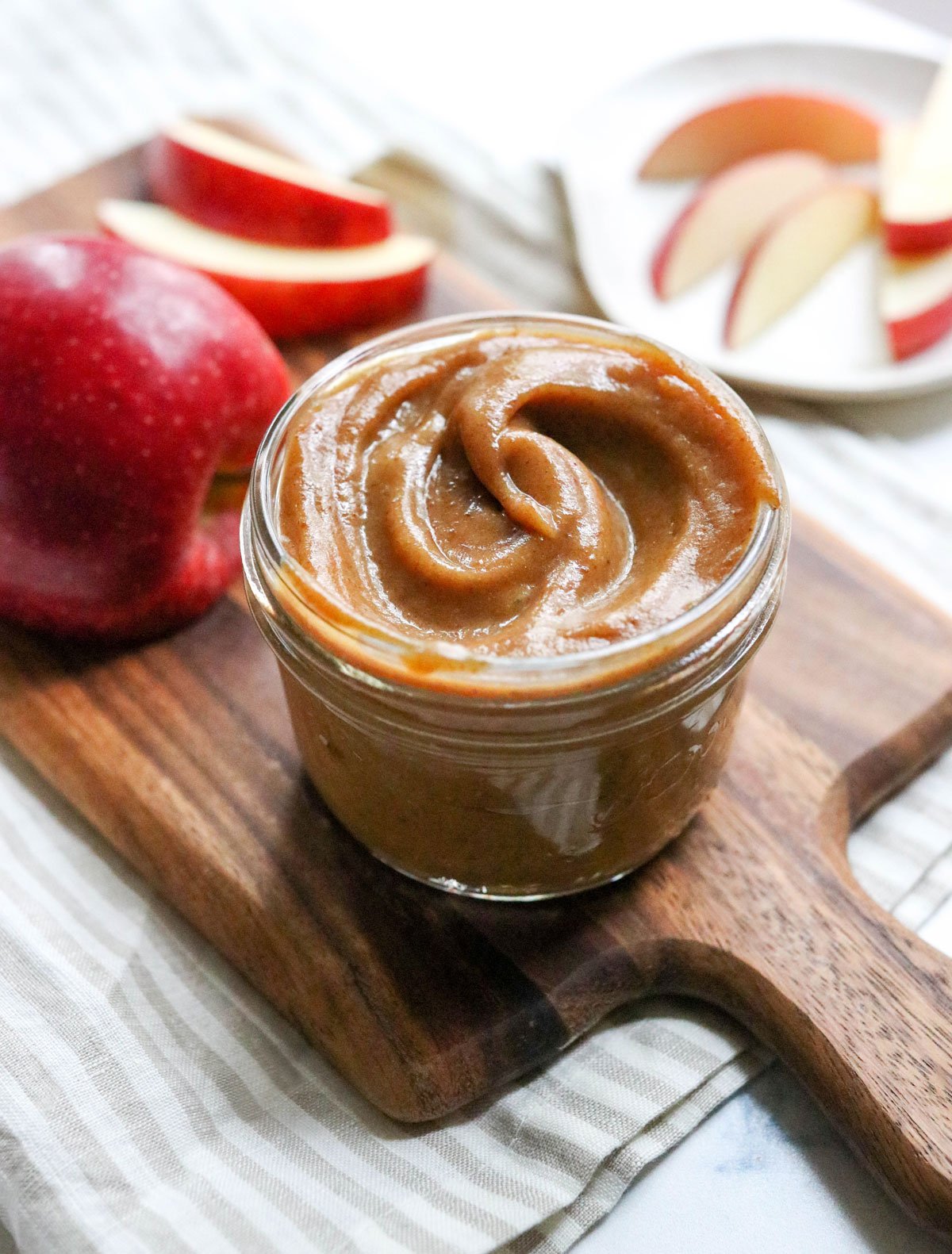 Date Caramel Dip
When you're in the mood for something sweet, this caramel is made without butter or dairy. Serve it with sliced apples or vegan graham crackers for an easy snack or dessert.
Roasted Squash Seeds
If you've prepared a winter squash, don't toss the seeds! Instead, you can coat them in a sweet and salty seasoning blend and roast them to crispy perfection. They make a great snack for your guests!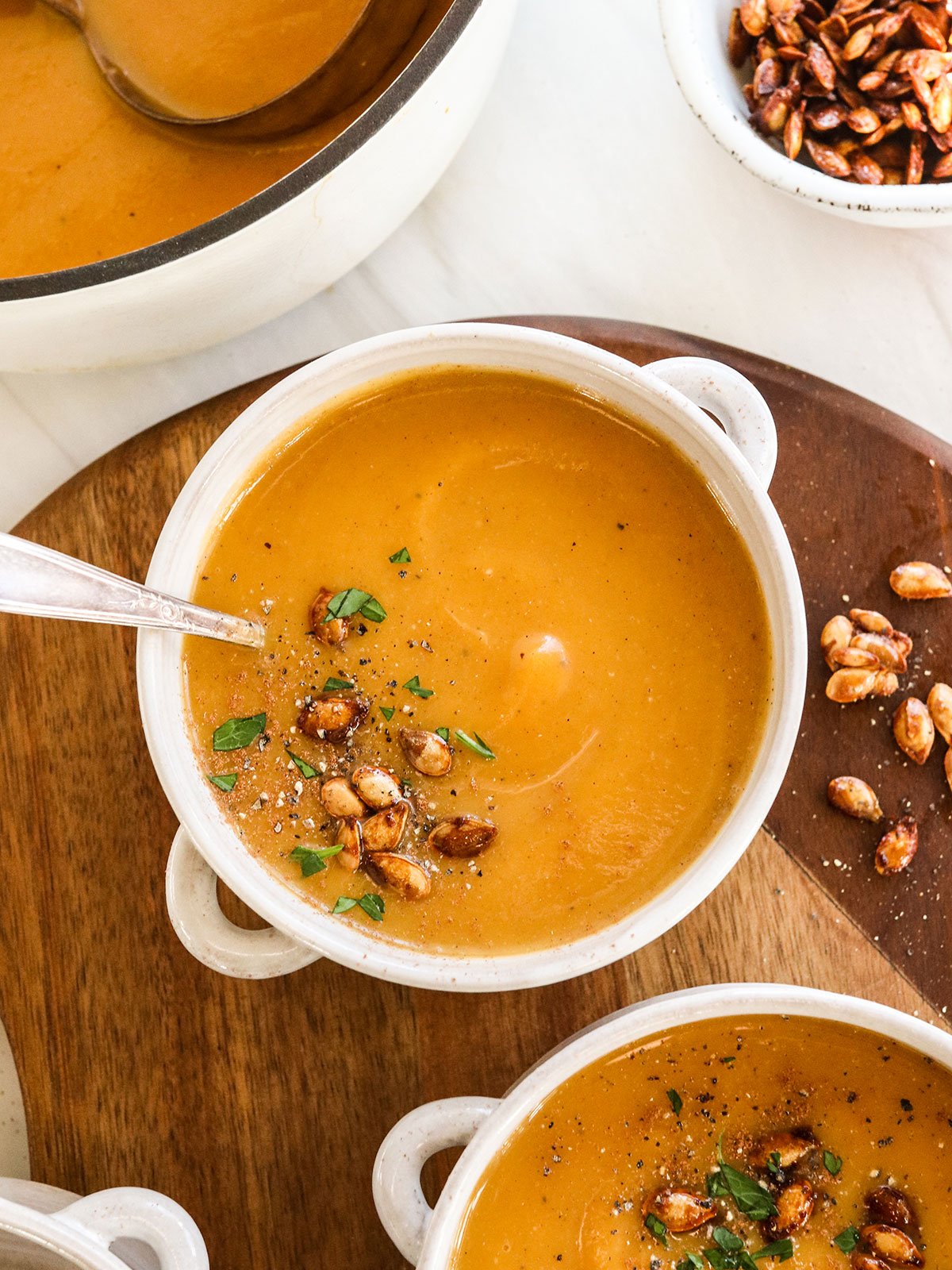 Butternut Squash Soup
This velvety soup is made with apples, cinnamon, and a hint of spice. The flavor is so delicious, it tastes like it came from a restaurant!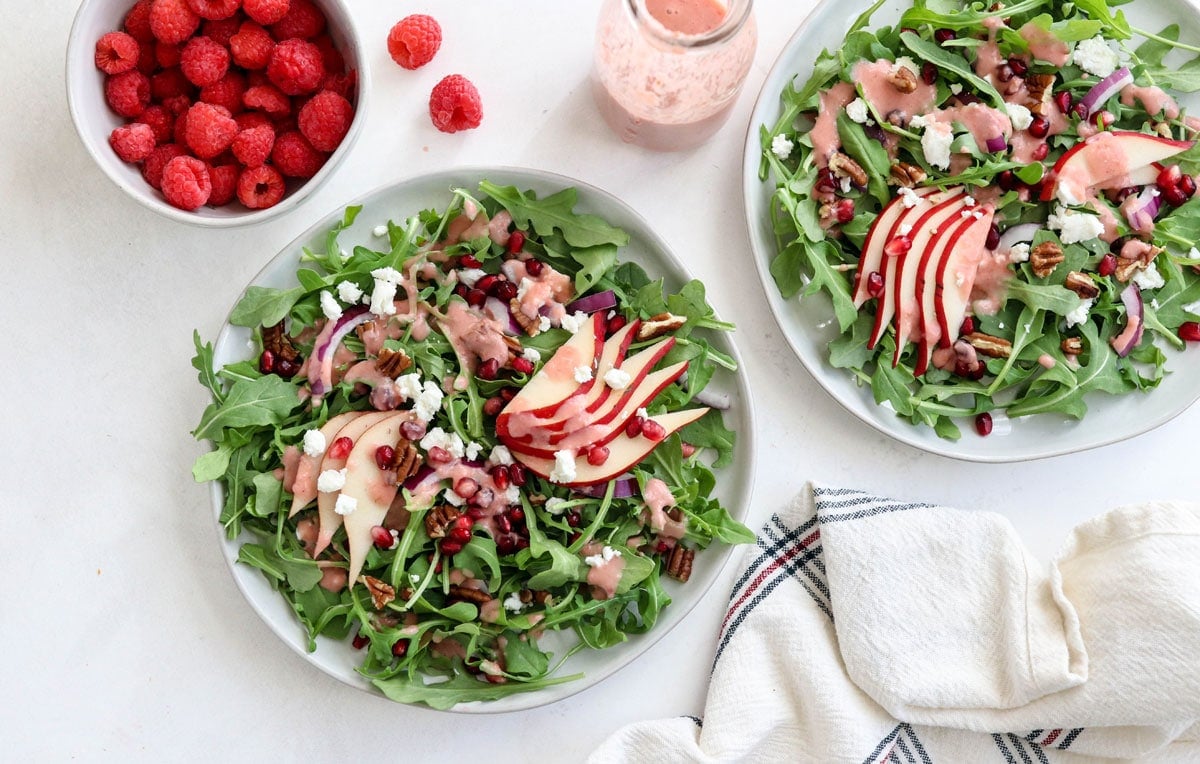 Arugula Salad with Raspberry Vinaigrette
This salad dressing will make you want to lick your plate clean! It's naturally sweetened with maple syrup, and pairs perfectly with spicy arugula, but you can use any other lettuce you have on hand.
Skip the cheese to keep this recipe vegan-friendly, or serve it on the side if you have non-vegan guests.
Brussels Sprouts Salad
Shredded brussels sprouts have such an appealing texture, you don't even have to cook them! Tossed in an unexpected honey mustard dressing, this salad is always a hit with a crowd, but be sure to swap the honey for maple syrup to keep this recipe vegan.
Vegan Thanksgiving Side Dishes
Instant Pot Mashed Potatoes
Mashed potatoes are an easy dish to veganize, as long as you use dairy-free milk. Be sure to use an unsweetened dairy-free milk (like almond milk or oat milk) when making these, so you're not adding a sweetener or vanilla flavoring to your spuds.
If you'd like to add a vegan butter for mashing, there are several great options available at the grocery store, like Miyoko's brand. (But this recipe doesn't require it, and it's still delicious!)
Vegan Mushroom Gravy
This gravy recipe is made without flour or butter, but it tastes just as delicious as a traditional gravy! No turkey drippings required.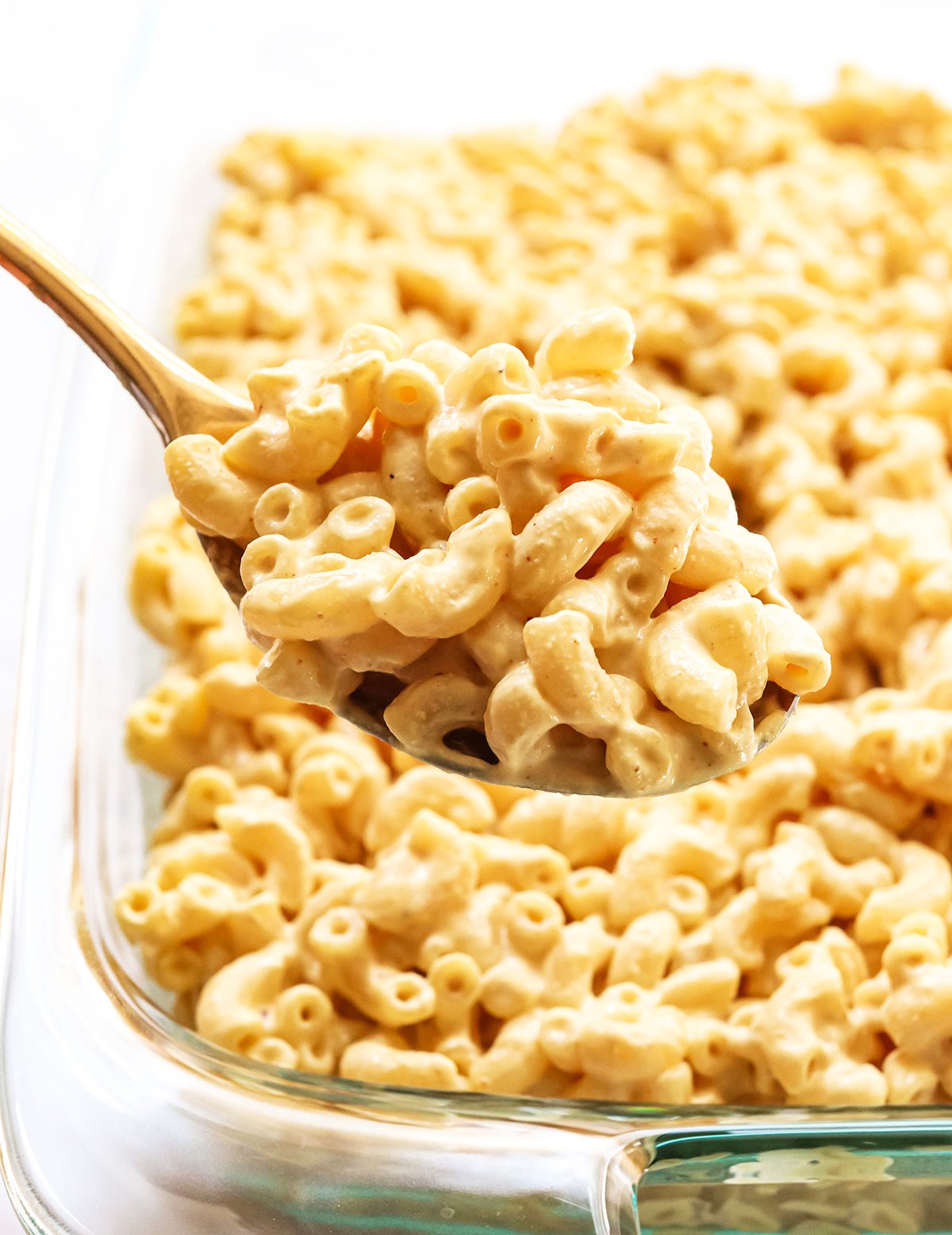 Vegan Mac and Cheese
This recipe is a fan favorite year round! It's just as quick to prepare as the boxed version, since you can blend the sauce while the pasta cooks, then stir it all together. 
You can easily make this gluten-free by using brown rice or chickpea pasta. 
Cranberry Sauce
Naturally sweetened with pure maple syrup, this is the best cranberry sauce you'll ever make! All you need is 5 ingredients and a few minutes of effort. 
Sweet Potato Casserole
This casserole features a crunchy topping made from oats and pecans. The combination is delicious! 
Wild Rice Stuffing
This vegan stuffing is made with a wild rice blend instead of bread, so it's naturally gluten-free, too. Feel free to use brown rice, if that's easier to find. Either way, it's loaded with flavor thanks to the addition of apples, crunchy pecans, and tart cranberries.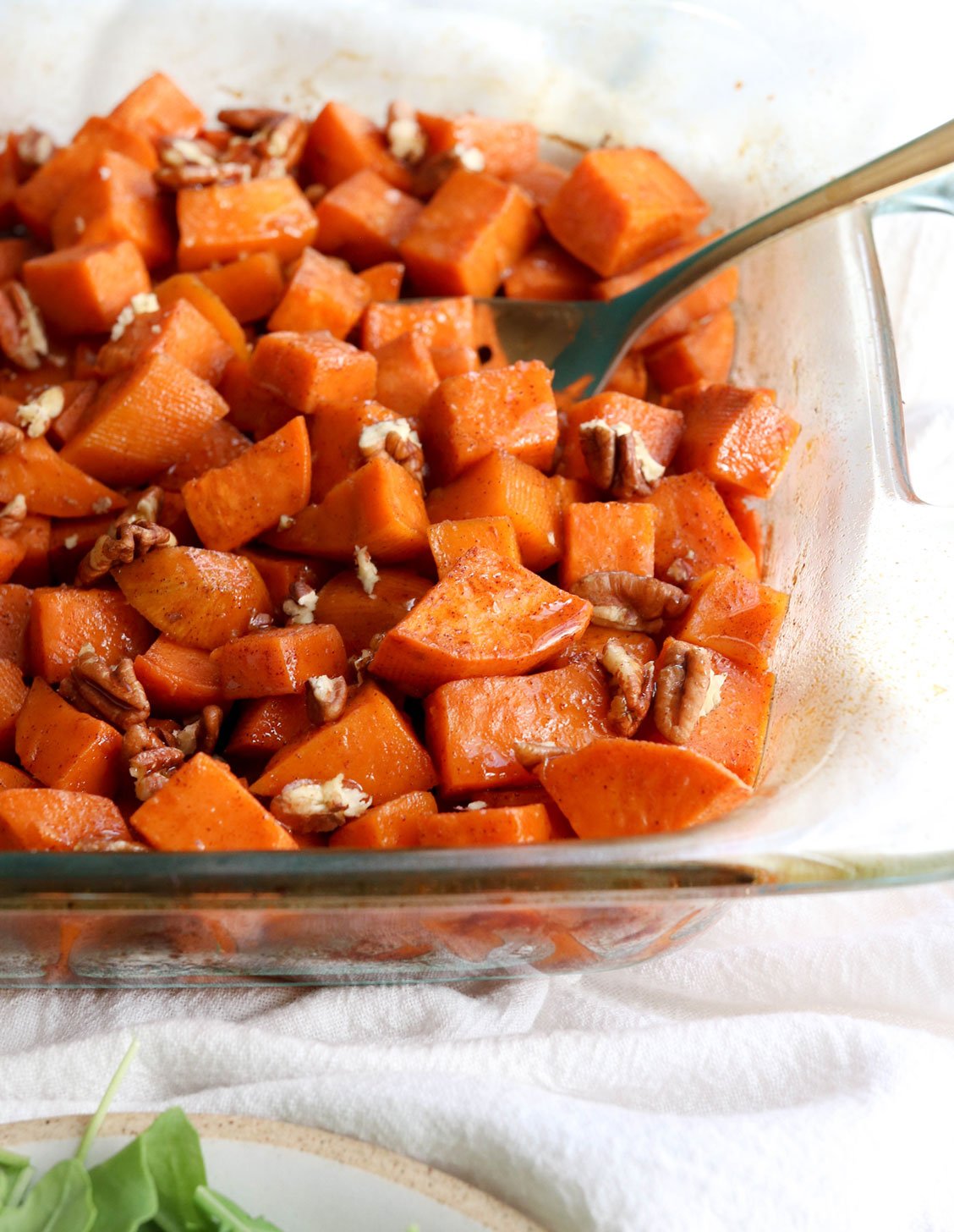 Maple Glazed Sweet Potatoes
If you prefer a sweet side, these sweet potatoes are always a hit. Topped with crunchy pecans, they have the perfect balance of texture and flavor. 
Vegan Green Bean Casserole
Green beans are tossed in an easy white bean sauce and topped with a crunchy (not fried) topping. Once you taste it, it's hard to stop!
Vegan Creamed Spinach
This dairy-free vegetable tastes like the traditional version, but it's made with an easy cashew sauce, instead. Feel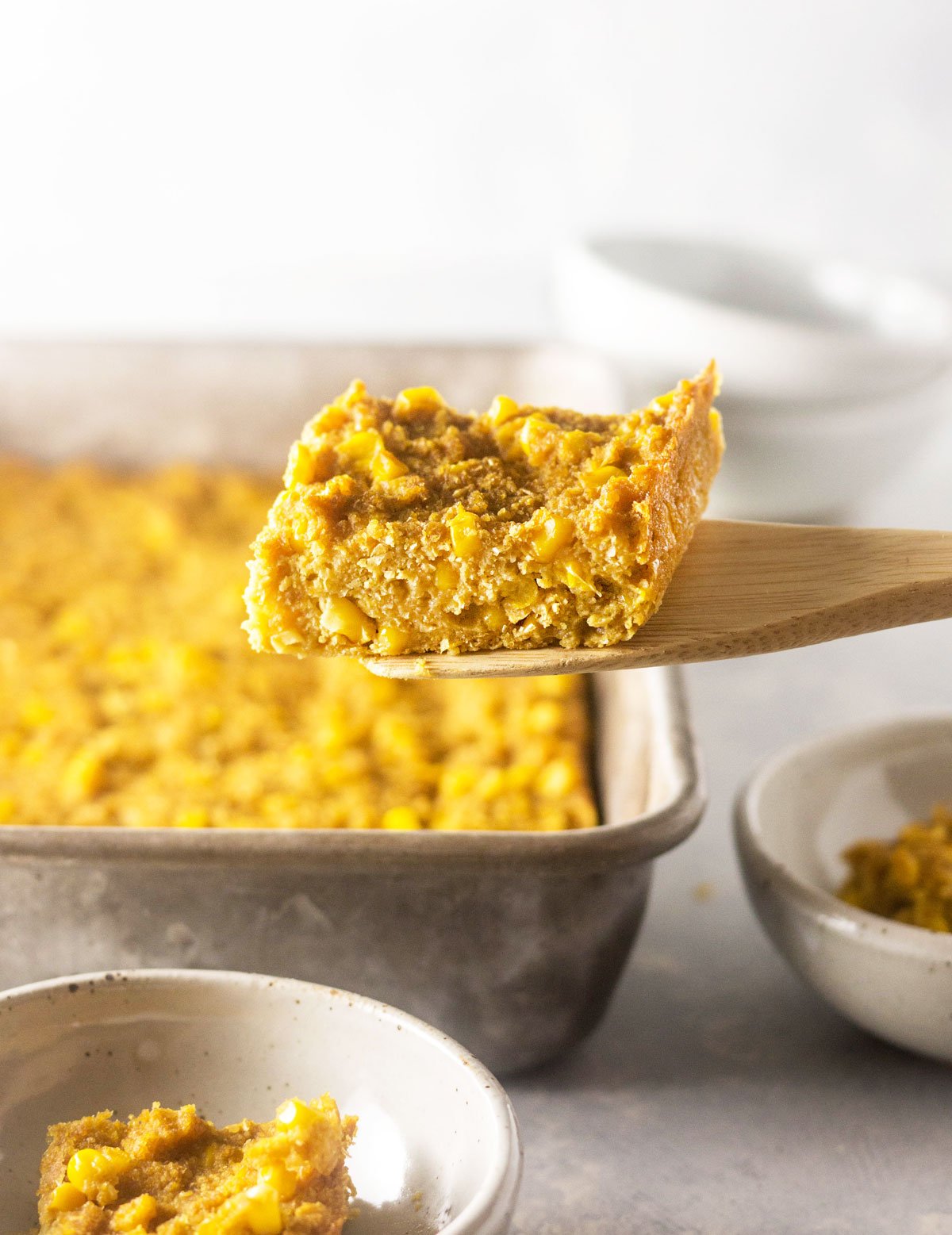 Vegan Corn Casserole
This dish is inspired by one my family used to make with Jiffy corn mix. It's a lightly sweet and tender spoon bread, made with millet to keep it gluten-free. You could also use masa harina (corn flour), instead.
Vegan Skillet Cornbread
This bread isn't actually made with corn, but it reminds me of the Jiffy cornbread mix that my mom used to make corn muffins. It's lightly sweet and super-satisfying. Feel free to add in any extras you like, such as sliced jalapenos or vegan cheddar cheese.
Vegan Main Dishes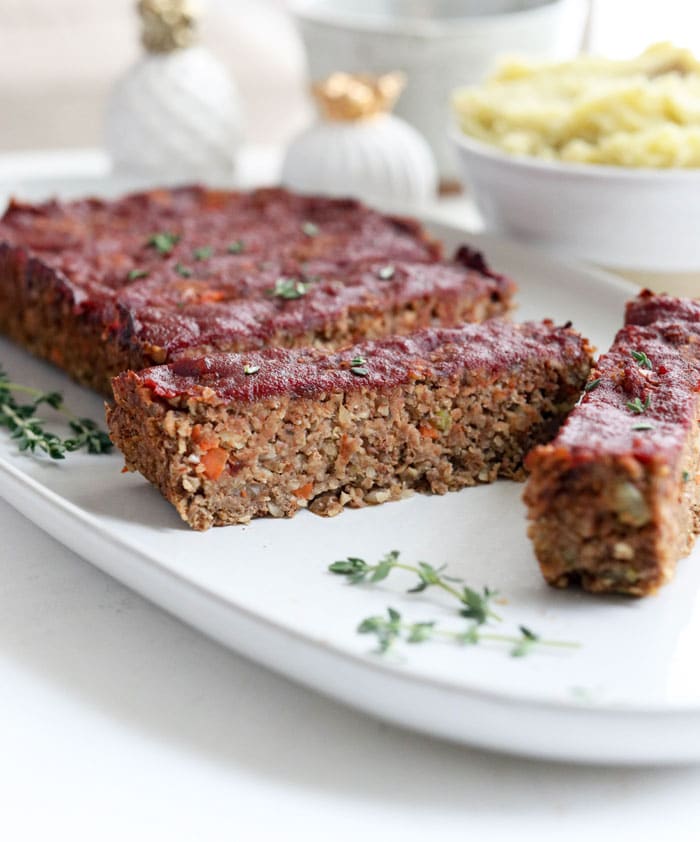 Vegan Meatloaf
This lentil loaf is made with a combination of lentils, oats, nuts, and veggies, for a satisfying main course. Top it with a homemade glaze, or use BBQ sauce for a quick alternative!
Stuffed Acorn Squash
Roasted acorn squash is stuffed with an easy quinoa stuffing, for a nourishing Thanksgiving dinner.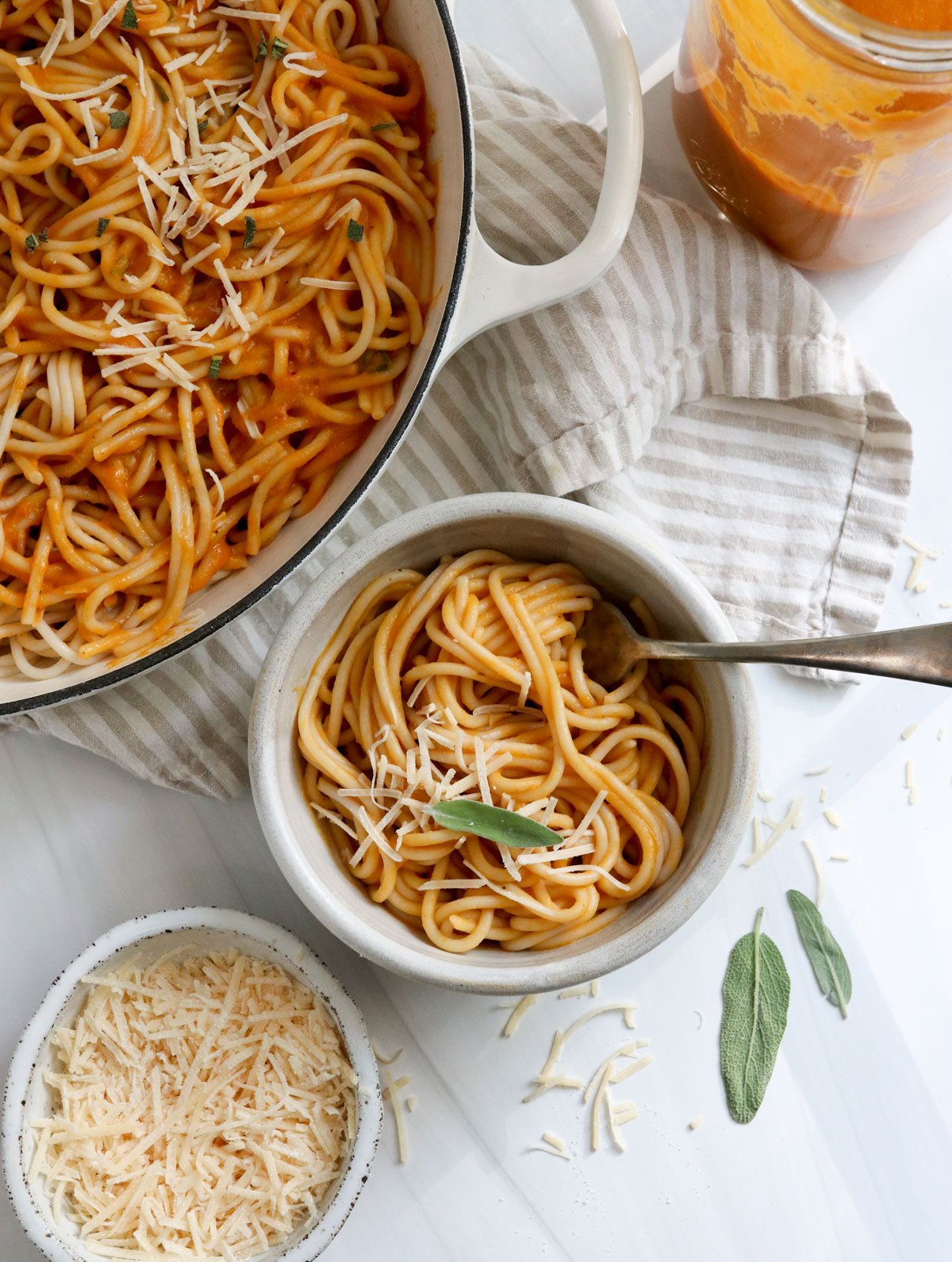 Pumpkin Pasta
This autumn-inspired pasta sauce is made with canned pumpkin, and has a restaurant-quality flavor. Serve it over your favorite pasta, along with your favorite sides.
Baked Portobello Mushrooms
If you need an easy alternative to turkey, these portobello mushrooms can be served over mashed potatoes with gravy, instead! They have a meaty texture, and can be baked at the same time as your other side dishes. 
Whole Roasted Cauliflower
Cauliflower becomes unbelievably appealing when it's seasoned and roasted to tender perfection! Slice it into wedges, and serve with vegan gravy or tahini sauce on top.
Vegan Desserts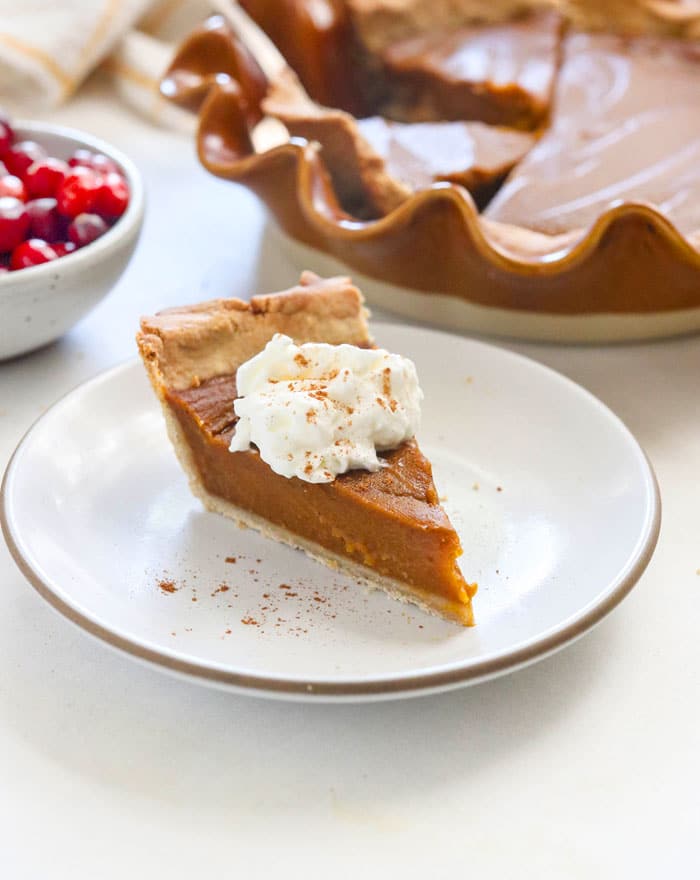 Vegan Pumpkin Pie
This pie tastes better than the traditional version! Sweetened with maple syrup and dates, it has extra fiber and nutrients in each bite. Be sure to try my Vegan Oat Flour Pie Crust, if you need a homemade option. 
French Silk Pie
This chocolate pie is just as creamy as the original, but it's made with coconut milk for a dairy-free option. 
Sweet Potato Pie
This sweet potato pie might even be better than pumpkin pie! It has the perfect balance of sweet and spicy flavors, and no one will guess it's made without eggs or dairy.
Vegan Chocolate Pie
This pie is just about as easy as it gets! The filling is fudge-like, made with chocolate chips and coconut milk. Be sure to check the label when shopping for vegan chocolate chips, to make sure you choose a brand that is dairy-free. 
Peanut Butter Cup Pie
This vegan dessert tastes like a giant peanut butter cup! It has a silky smooth texture, thanks to the addition of coconut oil, which thickens up when chilled. If you're not a fan of coconut flavor, look for refined coconut oil (or expeller pressed) which has zero coconut taste.
Vegan Thanksgiving Recipes: Whole Roasted Cauliflower
These Vegan Thanksgiving Recipes cover everything you need for a delicious plant-based feast. From entrees, to side dishes, and decadent desserts, these easy recipes will be a hit. Try Whole Roasted Cauliflower for a simple, yet impressive, alternative to turkey!
Servings: 6
Ingredients
1

whole

head cauliflower

(2 to 3 pounds)

3 to 4

tablespoons

olive oil

1

teaspoon

fine sea salt

1

teaspoon

garlic powder

1

teaspoon

lemon juice

freshly ground black pepper
Instructions 
Preheat the oven to 400ºF and move your oven rack to a low setting, so the cauliflower will be at least 4 to 6 inches away from the top heating element. Trim the bottom of the cauliflower, slicing the core so it's flush with the bottom of the rest of the cauliflower head and will stand up evenly when placed in a pan. Carefully remove any leaves from the bottom, without cutting off the florets. Rinse the cauliflower well (I like to rinse the bottom after the leaves have been cut off, to make sure there are no tiny bugs inside) and pat well to dry.

In a small bowl, mix together 3 tablespoons of olive oil, the salt, garlic powder, lemon juice and several grinds of black pepper. Use a pastry brush to stir it together. Place the cauliflower in a rimmed baking sheet or cast iron skillet, and flip it upside down so you can brush the bottom of the cauliflower head with roughly half the mixture. Shake the cauliflower to help distribute the seasoning inside.

Flip the cauliflower head back over, and brush the entire outside with the remaining olive oil mixture. Be sure to use any excess that has dripped into the pan, too. Pour 1/4 cup of water into the bottom of the pan, then place the pan in the oven and roast for 60 minutes.

When the timer goes off, remove the pan and use a knife to check the core of the cauliflower. If the cauliflower is 2 pounds or less, it might be tender already. If not, return the cauliflower to the oven to cook for 15 more minutes. If you're worried about the cauliflower getting to dark on top, you can brush those areas with additional olive oil, to help slow the browning process. If your cauliflower head is 3 pounds or more, it will probably take closer to 1 hour and 30 minutes to become tender all the way through.

When the cauliflower is tender, remove it from the oven and let it cool for 10 minutes. Season with additional salt and pepper, if desired, then slice into wedges and serve warm with your favorite side dishes. Leftover cauliflower can be stored in an airtight container in the fridge for up to 5 days.
Notes
Nutrition information is for roughly 5 ounces of cauliflower, or 1/6th of the head, assuming you're using a 2-pound head. This is automatically calculated, and is just an estimate, not a guarantee.
Nutrition
Calories: 102kcal, Carbohydrates: 8g, Protein: 3g, Fat: 7g, Saturated Fat: 1g, Polyunsaturated Fat: 1g, Monounsaturated Fat: 5g, Sodium: 433mg, Potassium: 459mg, Fiber: 3g, Sugar: 3g, Vitamin A: 0.05IU, Vitamin C: 73mg, Calcium: 34mg, Iron: 1mg
I hope these vegan Thanksgiving recipes will prove useful during the busy holiday season. I can't wait to hear what you try!