"It's a helluva time to open a restaurant."
That's how one Arizona Republic reader responded last year to news of a restaurant opening.
Every month The Republic releases a roundup of restaurants and bars that have opened recently in metro Phoenix. The number varies and we can't promise we'll find them all — though one month we did hit a record of 42 openings.
This month's list highlights Hawaiian barbecue in Glendale, falafel and moussaka in north Phoenix and a bakery's expansion to Southern comfort food in Scottsdale.
At the time of writing, Arizona's COVID-19 case and death rates are the worst in the country. Restaurant owners face limited options as they balance public safety with making a living.
Drive-thru, delivery and curbside pickup offer the lowest risk of COVID-19 spread, followed by limited outdoor seating, according the Centers for Disease Control and Prevention.
Takeout and dine-in services are subject to change. We suggest you check ahead to see what options are available at these new restaurants:
Aloha Island Market
The Polynesian couple that opened this Mesa shop serve a rotating menu of island favorites such as kalua pork, spam musubi and guava cake. Their shop also sells imported snacks, drinks and groceries.
Details: 454 N. Lindsay Road, Suite 2, Mesa. facebook.com/alohaislandmarketaz.
CaliZona Tacos
This West Valley taco truck serves quesatacos, including quesabirria with a side of consommé. Other offerings include asada, carnitas, cabeza and camarones.
Details: 12833 W. Grand Ave., Surprise. 323-809-0409, facebook.com/fired.tg.5.
Los Carillos
This food truck usually has outdoor tables set up. The menu changes but has featured birria ramen, fry bread, burritos, menudo, and fish and chips.
Details: 12315 W. Paradise Lane, Surprise. instagram.com/los_carrillos_food_truck.
Central Kitchen
Thirsty Lion Gastropub has launched an online food hall featuring four different restaurant concepts, available for takeout and delivery only. Soy Joy Kitchen offers rice, sushi and ramen. Southern Jewel serves Nashville hot chicken and Southern food. Killer Wings offers boneless and traditional wings. Pizza and Spice serves a wide selection of pizza and salads.
Details: Thirsty Lion Gastropub, 3077 W. Frye Road, Chandler. centralkitchenfoodonline.com.
Daily Donuts & Wings
This modest storefront offers a wide selection of doughnuts, from bear claws to vanilla cake with coconut topping. As the name suggests, the shop also has bone-in and boneless wings.
Details: 4227 W Bell Road, Phoenix. 602-932-7597. Search 'Daily Donuts & Wings' on Facebook.
Desi Fusion
This Indian restaurant offers a wide selection of traditional Indian food, plus Indian-inspired pizza such as the paneer butter masala pizza.
Details: 8960 W. Bell Road, Suite 110, Peoria. 623-583-1769, desifusionaz.com. Second location at 1130 W. Grove Ave., Suite 111, Mesa. 480-687-4391, desifusionmesa.com.
El Entroke Bar & Grill
After closing a few years ago, El Entronke Mexican Food returns to south Phoenix in a new location. The restaurant serves, burros, chimichangas, taquitos and enchiladas. Menudo and posole are available on the weekends.
Details: 9032 S. Central Ave., Phoenix. entronke.com.
Flavors of India
After closing in Phoenix earlier in the pandemic, family-owned restaurant Flavors of India has reopened in Gilbert with a selection of puri and tandoori.
Details: 857 E. Warner Road, Suite 101, Gilbert. 602-277-5546, flavorsofindiaphoenix.com.
Gus's World Famous Fried Chicken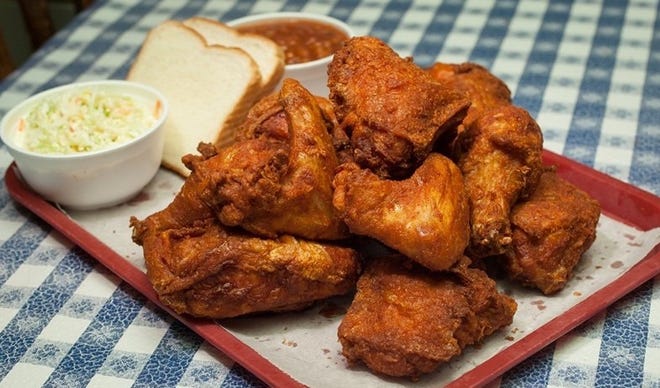 This Memphis fried chicken restaurant made its Arizona debut in Mesa. The crispy chicken is available in dark and white meat, served with options including mac n' cheese, seasoned fries and fried pickles.
Details: 212 W. Main St., Mesa. 480-590-0404, gusfriedchicken.com.
Hana House Middle Eastern
Located in north Phoenix, Hana House serves Middle Eastern fare such as kebabs, dolmas, kibbe, fattoush and shawarma. A small amount of outdoor seating is available.
Details: 2350 W. Northern Ave., Phoenix. 602-354-3416, hanahouserestaurant.com.
Hiccups & Churroholic
Finish off a bowl of pho or garlic noodles with a churro sundae for dessert at this combination Asian restaurant and dessert shop. Hot drinks include golden milk tea and horchata.
Details: 9897 W. McDowell Road., Suite B210, Tolleson. 623-440-5943, tolleson.orderchurroholic.com.
Ike's Love & Sandwiches
The California chain has multiple locations in metro Phoenix, with sandwiches such as the Elvis Keith made with halal chicken, wasabi mayo, teriyaki and swiss cheese, and the Vegan Meatless Mike made with vegan meatballs and cheese plus marinara.
Details: 9404 W. Westgate Blvd., Suite C102, Glendale. 623-263-7200, loveandsandwiches.com.
The Kolache Cafe
One of Texas' best gas station foods arrives to Ahwatukee at the Kolache Cafe. The drive-thru shop sells a variety of savory kolaches (or klobásníky), similar to a pigs in a blanket, and traditional Czech ones with fillings such as poppy seed or apricot.
Details: 4302 E. Ray Road, Phoenix. 602-510-4116, thekolachecafe.com.
Modern Grind Coffee
This drive-thru coffee shop serves more than cappuccinos and cold brew. People can also order fruit and protein smoothies, specialty macchiatos and even a treat for the pup.
Details: 13044 W. Rancho Santa Fe Blvd., Avondale. 623-248-4040, moderngrindcoffee.com.
Nanaya Japanese Kitchen
Open several months already, this izakaya-style restaurant in Arcadia serves Japanese pub grub, including ramen, katsu sandwiches and fried snacks. Wash it down with a shot of sake or Sapporo.
Details: 3603 E. Indian School Road, Suite B, Phoenix. 602- 354-3532, nanayajapanesekitchen.com.
Nobana
Local chain Wildflower launched an Asian-inspired ghost kitchen with gluten-free noodle bowls, salads and wraps, all available for delivery.
Details: Wildflower, 15640 N. Hayden Road, Scottsdale. eatnobana.com.
'PLAN FROM THE TOP': What Phoenix restaurant, bar owners want from Biden admin
La Pequeña Brewing Company
Omar Zamora, former brewer at the now-closed Mother Bunch, has launched his own small brewery out of Sunnyslope. While there isn't a physical location (yet) to grab a pint, customers can find his canned beers at Craft Beer Hop Stop and Kings Beer & Wine. Zamora has also started a GoFundMe for his fledgling operation.
Details: Follow updates on facebook.com/lapequenabrewing.
Pie Express
This local shop offers an economical menu of pizza, nachos, burgers and build-your-own salad. The lunch special features a 9-inch pizza and medium fountain drink.
Details: 1929 E. Ray Road, Suite 7, Chandler. 480-786-4899, pieexpressaz.com.
The Porch
The Porch opened a new location in downtown Gilbert, offering burgers and sandwiches, rice bowls, salads and weekend brunch.
Details: 312 N. Gilbert Road, Gilbert. 480-572-1298, porchrestaurants.com.
Pulque Fine Mexican Cuisine
Dishes at this family-owned Mexican restaurant include flautas or ribeye over mole amarillo, plus seafood such as scallops, tuna ceviche and the Salmon Maya — salmon and lump crab on top of achiote corn purée and arugula salad with guajillo dressing.
Details: 9619 N. Hayden Road, Suite 108, Scottsdale. 480-393-3556, pulqueaz.com.
The Silver Key Lounge
This craft beer and wine bar is also a game board lounge, with hundreds of games to choose from. Prewrapped meals come from neighboring businesses IF Cafe, Native Grill and La Famiglia Italian Restaurant, according to the bar's website.
Details: 1837 W. Guadalupe Road, Suite 105, Mesa. thesilverkeylounge.com.
STK
Part steakhouse, part lounge, this Chicago restaurant opened in Scottsdale with shellfish platters and steaks ranging from a six ounce filet for $48 to a 34-ounce dry-aged tomahawk for $152.
Details: 7134 E. Stetson Drive, Scottsdale. 480-581-5171, stksteakhouse.com.
SugarJam the Southern Kitchen
Dana Dumas of SugarJam Bake Shop found a new location for her new concept, serving dishes such as fried chicken and biscuit, pulled pork mac n' cheese and shrimp po' boy. Those with a sweet tooth can still order her signature pies and pastries.
Details: 15111 N. Hayden Road, Suite 170, Scottsdale. 480-948-6210, sjsouthernkitchen.com.
T&Y Hawaiian BBQ
This Hawaiian and Asian fast-food restaurant lets customers build their own meals, choosing from barbecue short ribs to kalua pork, served with white rice, macaroni salad and vegetables. Family meals are also available.
Details: 6756 W. Camelback Road, Glendale. 623-300-9866, facebook.com/tyhawaiianbbq.
La Zebra Ice Cream
This ice cream shop also offers botanas, sweets and refrescos. Snacks and drinks include churros locos, Tosticeviche, agua de pepino con limón and Tostilocos in a cup.
Details: 3750 W. McDowell Road, Suite 6, Phoenix. instagram.com/lazebraicecream.
Reach the reporter at [email protected]. Follow @priscillatotiya on Twitter and Instagram.
Subscribe to azcentral.com today to support local journalism.