Buttery, classic cut out sugar cookies get a brown sugar twist with my Brown Sugar Cut Outs! Enjoy them plain or decorate them for the holidays!
This recipe was made in partnership with my friends at Imperial Sugar. CLICK HERE for the full recipe!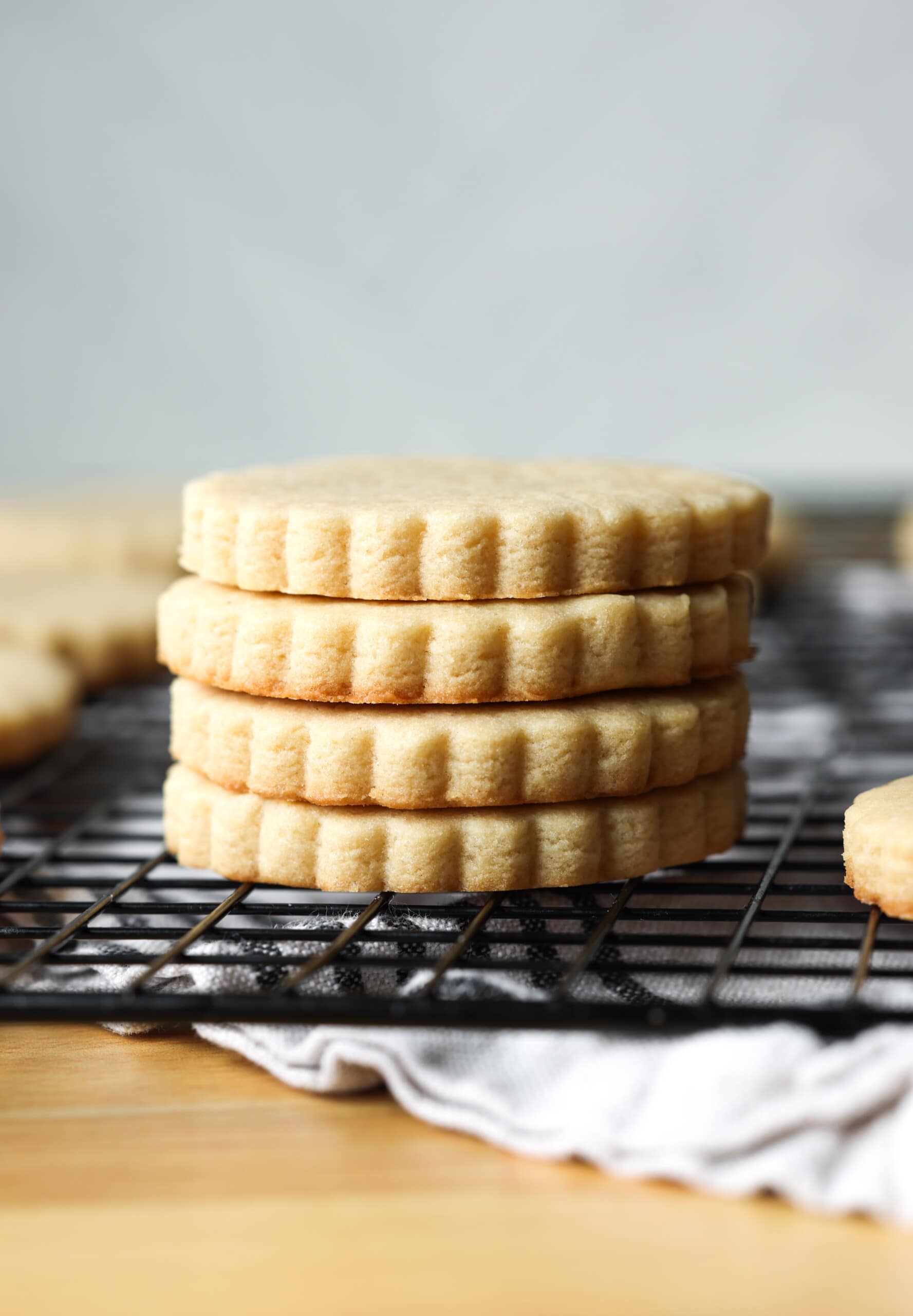 Cut out cookies are classic Christmas cookies, and adding brown sugar to a sugar cookie recipe is a quick and easy twist on the typical cookie. I started with my perfect easy sugar cookie recipe, so if you love that recipe as much as I do, you'll love these too! The addition of brown sugar will impart a softer texture and a light brown sugar flavor, while still holding the shape of even your most intricate cookie cutter with NO CHILLING NEEDED!! You can also use dark brown sugar if you prefer an even deeper brown sugar taste. Love this easy cookie recipe!
Yes and no…that's probably not the answer you were looking for! Maybe the correct answer here is "a little". My favorite cut out cookies are soft but with crisper edges, and brown sugar does lend a softer cookie, as brown sugar has more moisture than granulated, but you will still achieve those crisp edges.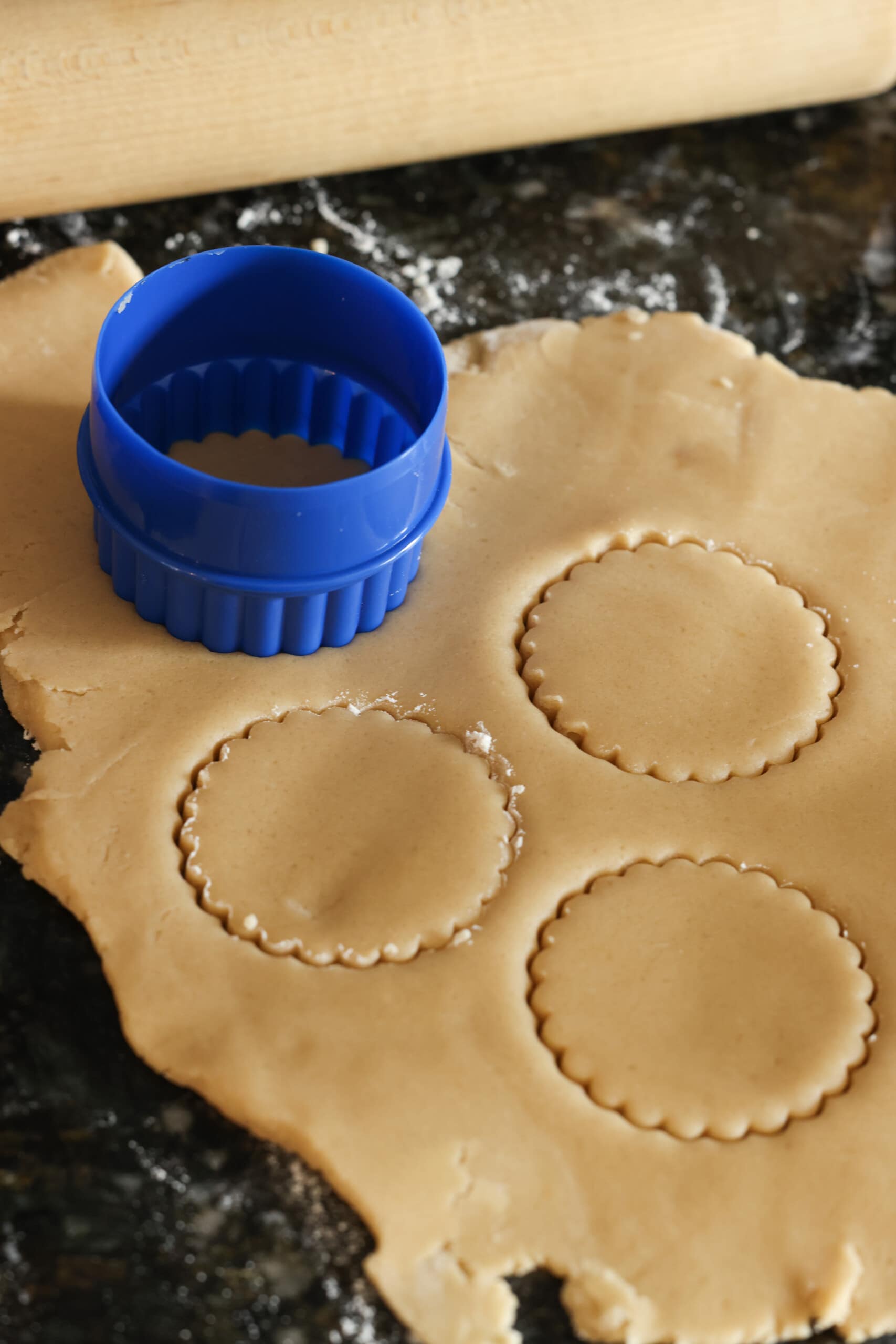 Brown Sugar Cut Out Ingredients:
Click here: Full list of ingredients and printable recipe
Cold butter. I use cold butter in my recipe to prevent spreading without having to chill the dough. You can still chill the dough if you want, but I don't find it's necessary. 
Light brown sugar. You can use dark brown sugar as well, or a combination of the two. I prefer light brown sugar in these, as you still get the caramel flavor without adding additional moisture to the cookie.
Large egg
Vanilla extract
Baking powder
Kosher salt
All purpose flour
Icing isn't necessary on these sugar cookies, but if you like decorating cookies this is a quick and simple icing to make if you don't want to go to all the trouble of making royal icing!
Powdered sugar
Water or milk
Light corn syrup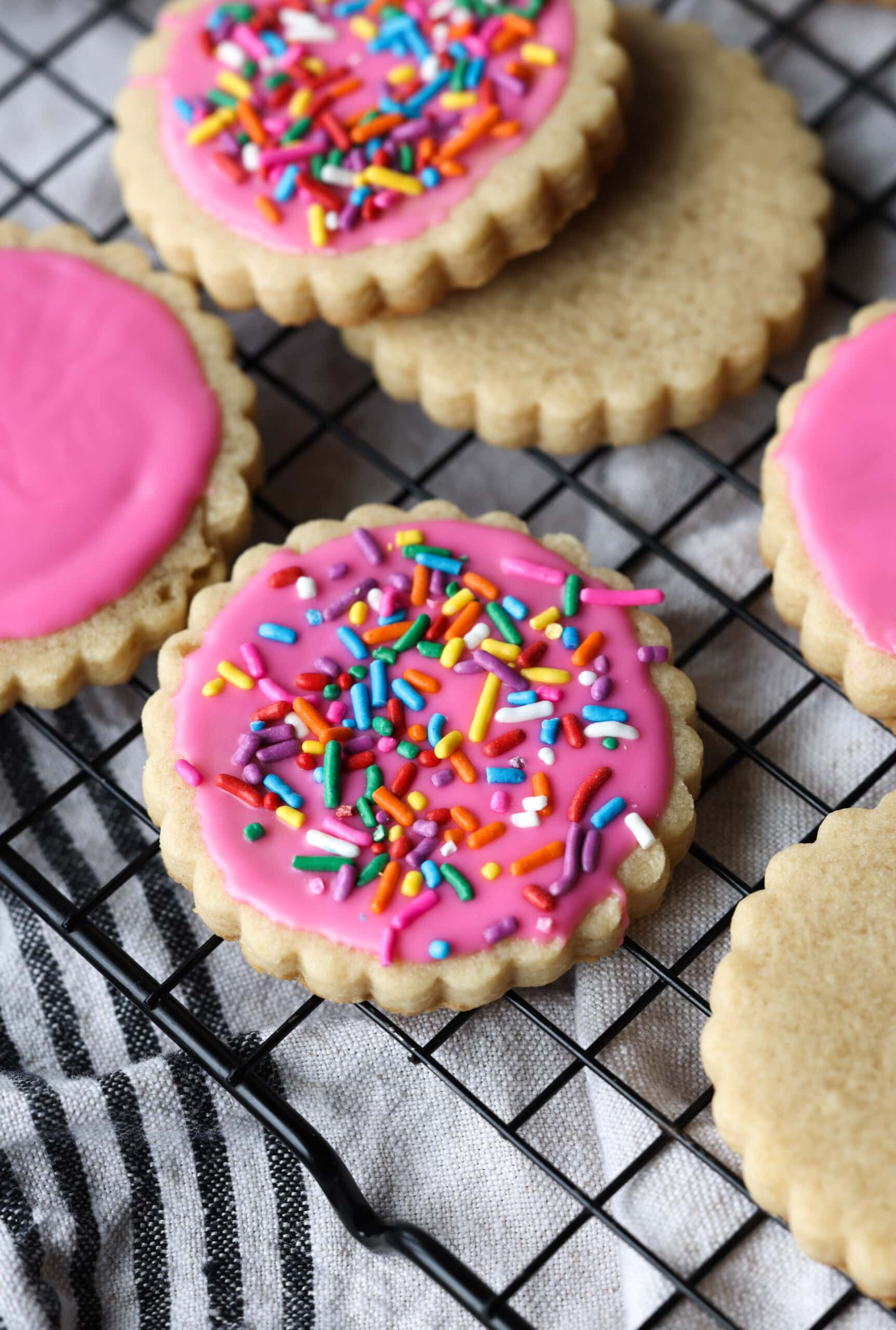 Unsalted vs Salted Butter
You can use with either salted or unsalted butter in this recipe. It's a personal preference of mine to use salted, as I just prefer the taste. If you choose to use unsalted you don't need to increase the amount of additional salt in this recipe.
Directions:
Cookies: Preheat the oven to 350°F. Line a baking sheet with parchment paper or a silicone mat and set aside.
In the bowl of your stand mixer fitted with the paddle attachment, mix the butter and sugar together on medium speed for 2 minutes until light and fluffy.
Add in the egg, vanilla, baking powder, and salt and continue mixing until combined and smooth, scraping the sides of the bowl as necessary with a rubber spatula.
Turn the mixer speed to low and add in the flour, mixing until the dough comes together.
Divide dough into 2 sections and on a floured surface, using a rolling pin, roll the dough to 1/3 inch thick. Using a cookie cutter, cut out shapes of the dough with your desired cutter(s) and place the cookies on the prepared baking sheet 1 1/2- inches apart. If you are baking in batches, keep the unused dough in the refrigerator until ready to use to prevent dough from getting too warm.
Bake cookies for 8-10 minutes until the edges are lightly golden. Allow the cookies to cool on the baking sheet for 5 minutes and then transfer them to a wire rack to cool completely.
Icing: In a bowl, whisk together the powdered sugar, water, and corn syrup until smooth.
Spread or pipe onto cooled cookies. You can use a drop of food coloring to achieve different colors. Allow the icing to set up completely before storing.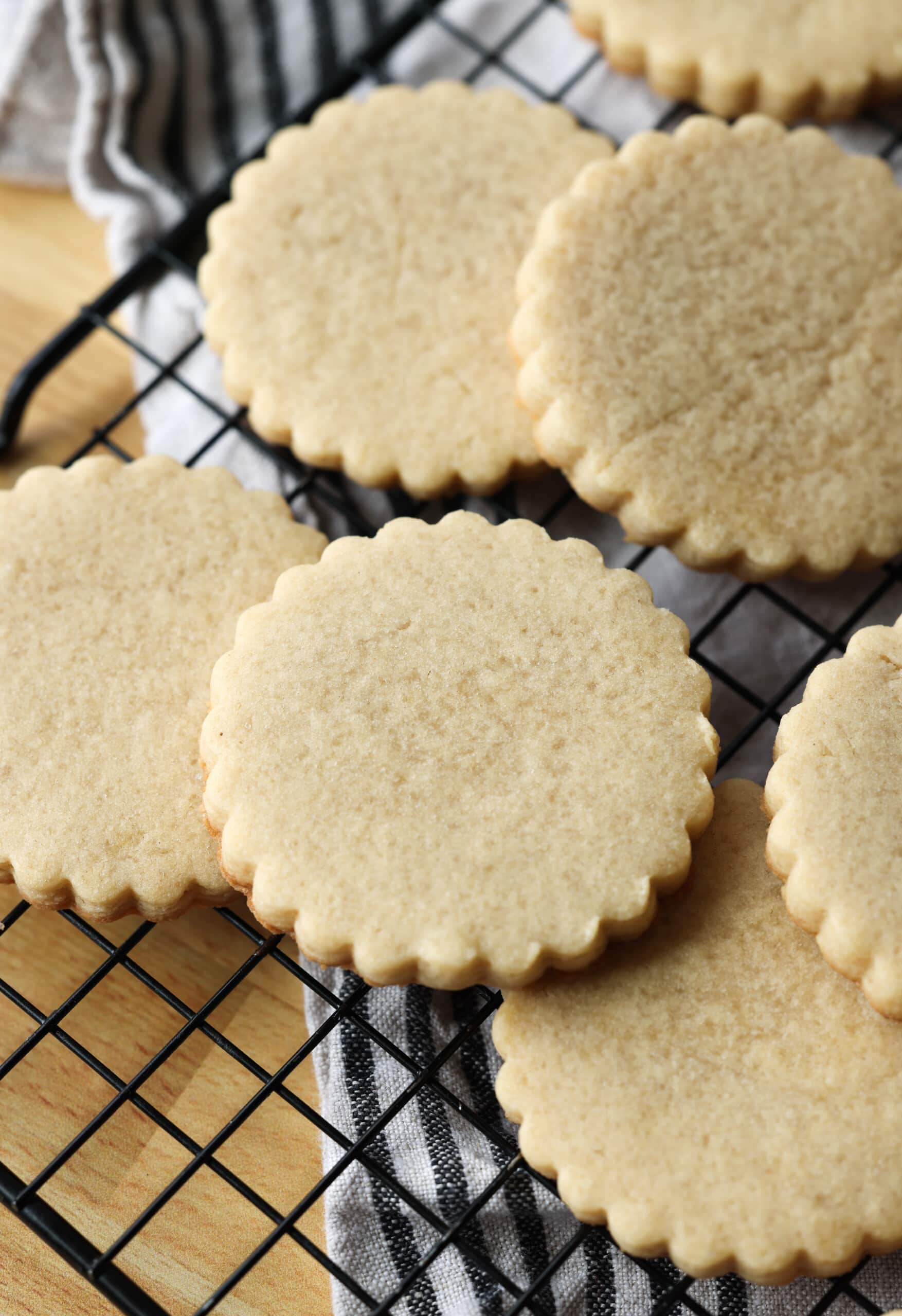 Here are a few tricks I've learned along the way to keep your cookies from spreading:
Use cold butter to start. Cube cold butter and mix it into the sugar without allowing it to come up to room temperature. This keeps the dough cooler.
Chill the dough. Even if you start with cold butter you can still chill the dough to be on the safe side if spreading is a concern, or if you're using intricate cookie cutters. 
Make sure you're using large eggs in the cookie dough. If you buy extra large eggs on accident (I've done it) this will add extra moisture into your cookie, changing the consistency of the dough and causing the dough to spread more. 
Granulated sugar has a lower moisture content than brown sugar, and will generally spread less and give you crisper edges. This is a brown sugar cut out cookie recipe, so you probably don't want to sub out the sugar, but you certainly can. 
To prevent even more spreading, you can use shortening in place of butter, as butter has a higher moisture content. I prefer baking with butter, but shortening is an option!
I prefer a thicker cutout cookie, but you can do whatever you like! I find that using a rolling pin, the thickness right between 1/4″ – 1/3″ is the sweet spot. I generally err on the side of a thicker cookie. But I know so many people like a more thin and crisp cookie, which is great too as you can get more cookies from your dough!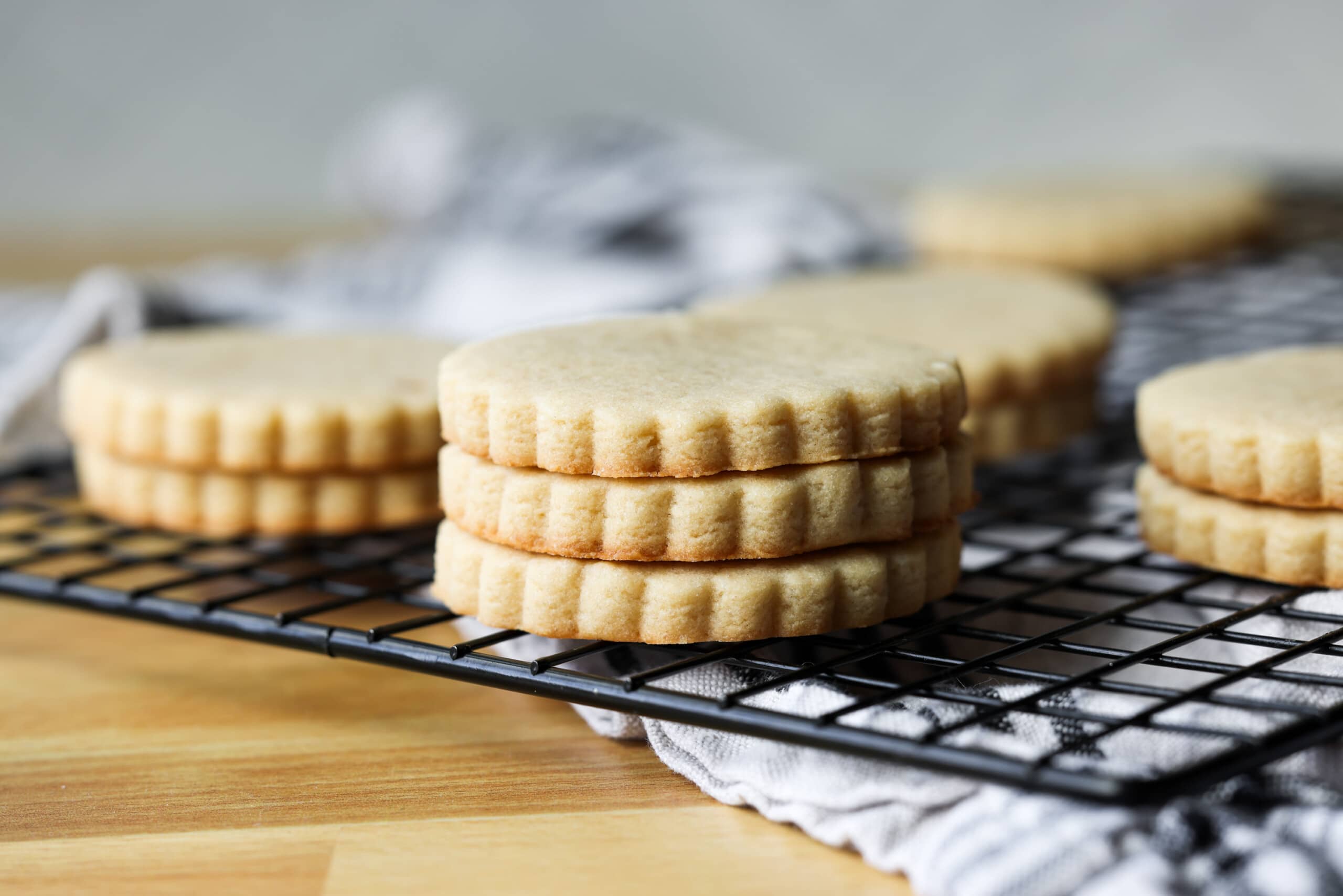 Variations:
I these cookies don't need altering, BUT you can get creative with the extract flavors you use. Here are few to try:
1/2 teaspoon of almond extract
1/2 teaspoon rum extract
1 teaspoon coconut extract
1/2 teaspoon of orange extract
PIN for later: