This incredible Cannoli Cake recipe transforms a bakery favorite into a delightful, indulgent layer cake! Complete with homemade mascarpone cannoli filling, fluffy vanilla cake layers, and creamy vanilla frosting dripping with chocolate ganache.
I bet you'll love my Italian Cream Cake too, so make sure to check out that recipe!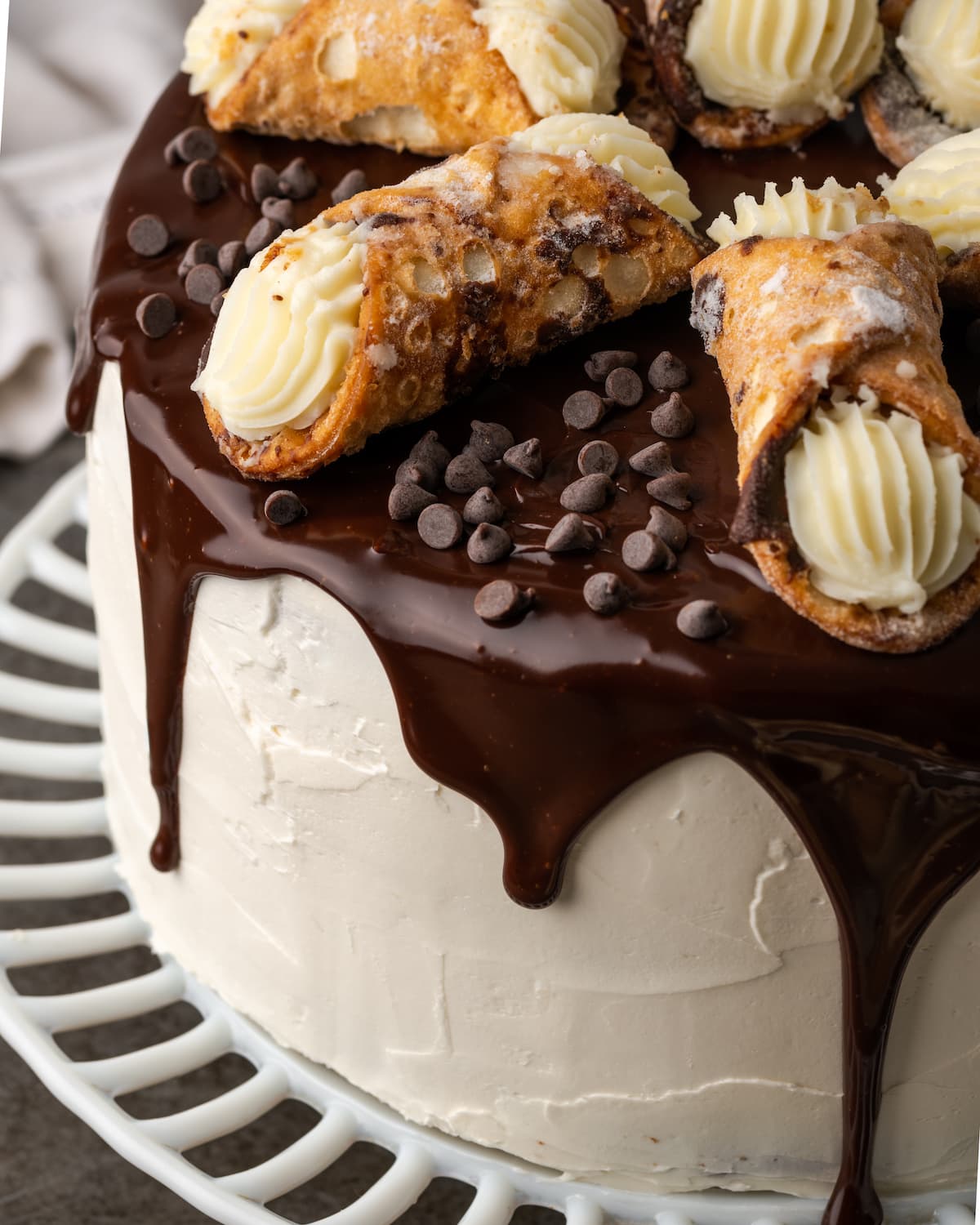 An Incredibly Indulgent Layer Cake You'll Love!
Picture a light, creamy, chocolatey cannoli fresh from the bakery. Now, imagine it transformed into layer upon layer of gorgeous vanilla cake. Filled with mascarpone cream, frosted, and then drenched in chocolate ganache. Are you ready for this? Because today we're bringing this indulgent dessert fantasy to life! Meet: the Cannoli Cake.
This is truly a showstopper of a cake. In looks, but also in its irresistible texture and sweet, creamy flavor. If you've been intimidated by layer cakes in the past, let's officially put those fears to rest. You're going to love how easy this knockout dessert is to make!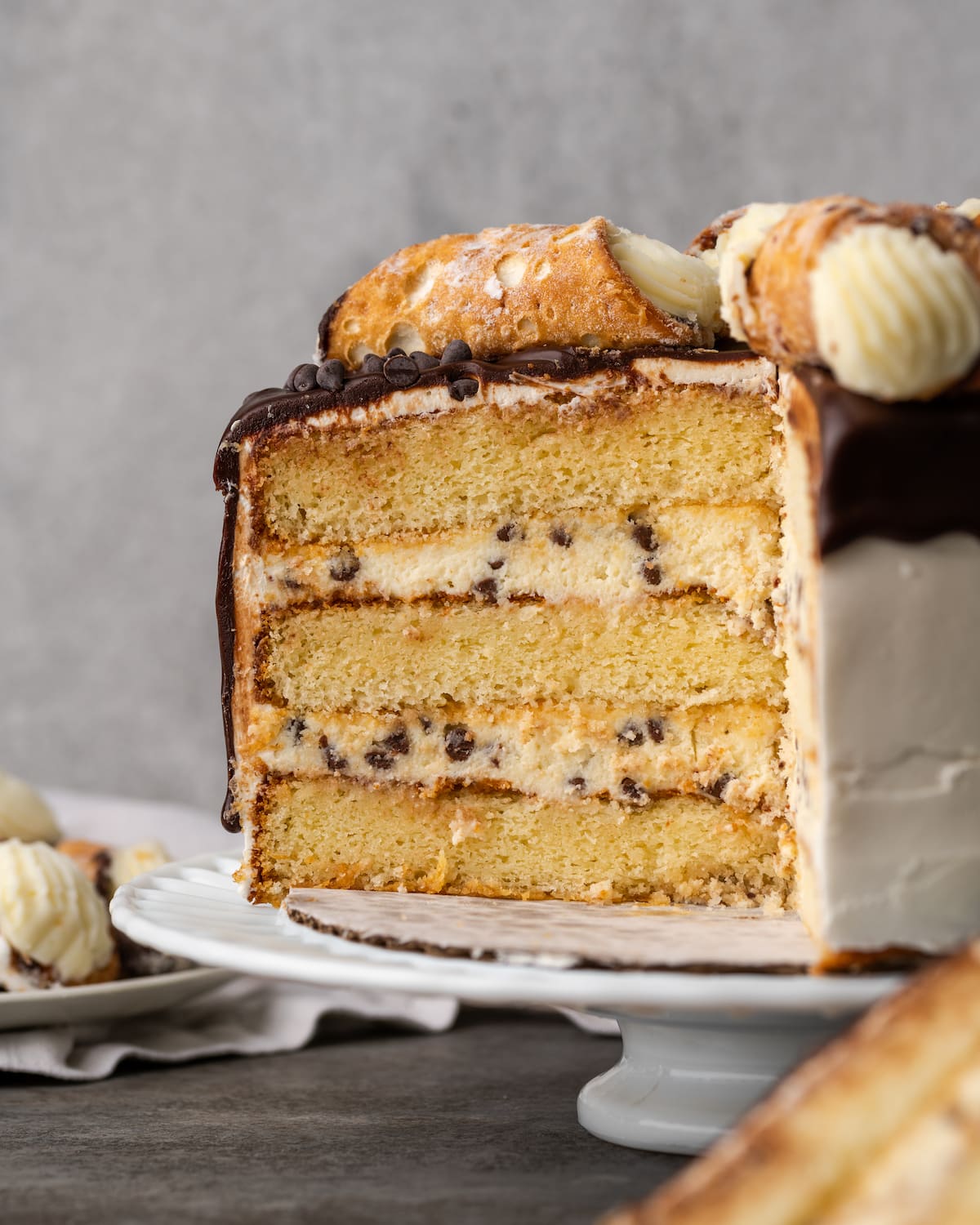 What Is Cannoli Cake Made Of?
Like my Easy Chocolate Eclair Cake, this cannoli cake recipe channels the spirit of a classic pastry into a decadent layer cake. Let's go over everything you'll need, and be sure to refer to the recipe card for the full details when making your cake: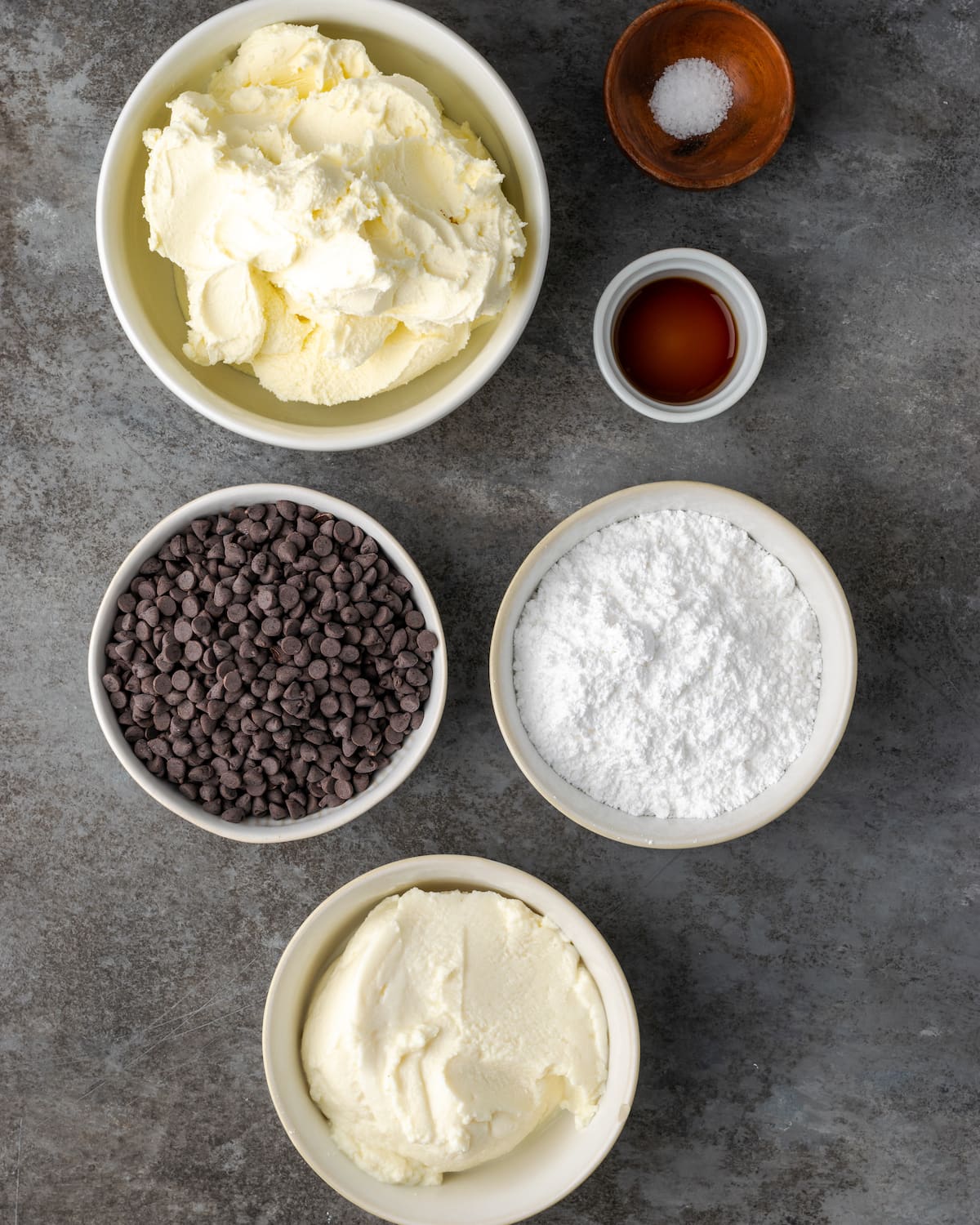 For the Cannoli Filling
Mascarpone & Ricotta Cheese: These are two soft, creamy Italian kinds of cheese that make up the pastry filling in a classic cannoli. Take note if your ricotta cheese needs draining before you begin.
Powdered Sugar: Also called confectioner's sugar. For sweetness without the graininess of regular sugar. 
Salt
Vanilla Extract: Make sure to use pure vanilla extract. Alternatively, use Grand Marnier. The liqueur gives the filling a little extra citrus kick.
Chocolate Chips: You'll need the mini chocolate chips for this recipe. Regular-sized chips will be too chunky, and you'll lose some of the filling's delicate texture.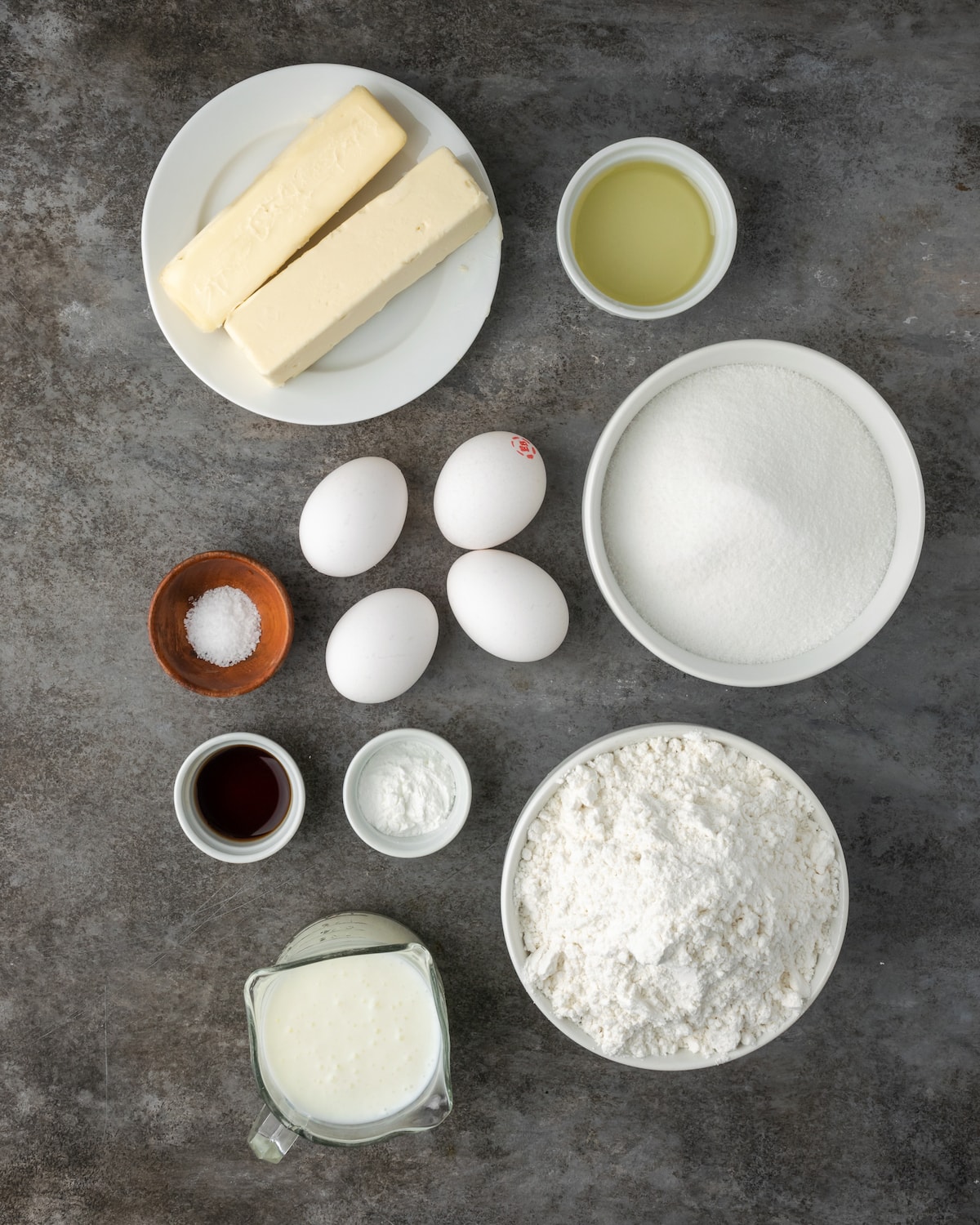 For the Cake
Butter: I use salted butter in the cake to help balance the overall sweetness of the recipe. Take your butter out of the fridge to let it come to room temperature, to make it easier to mix.
Sugar
Vegetable Oil: Vegetable oil gives a cake crumb irresistible moisture. You can use another neutral oil like canola if needed.
Eggs: For structure and richness. Be sure to use fresh eggs!
Vanilla Extract
Baking Powder: For leavening.
Salt
Cake Flour: Cake flour is lower in protein and gluten than regular all-purpose flour. I love using cake flour for this cannoli cake. It yields a more airy, delicate cake that really brings home those fluffy cannoli pastry vibes.
Buttermilk: Buttermilk gives this vanilla cake the best depth of flavor and a hint of tang.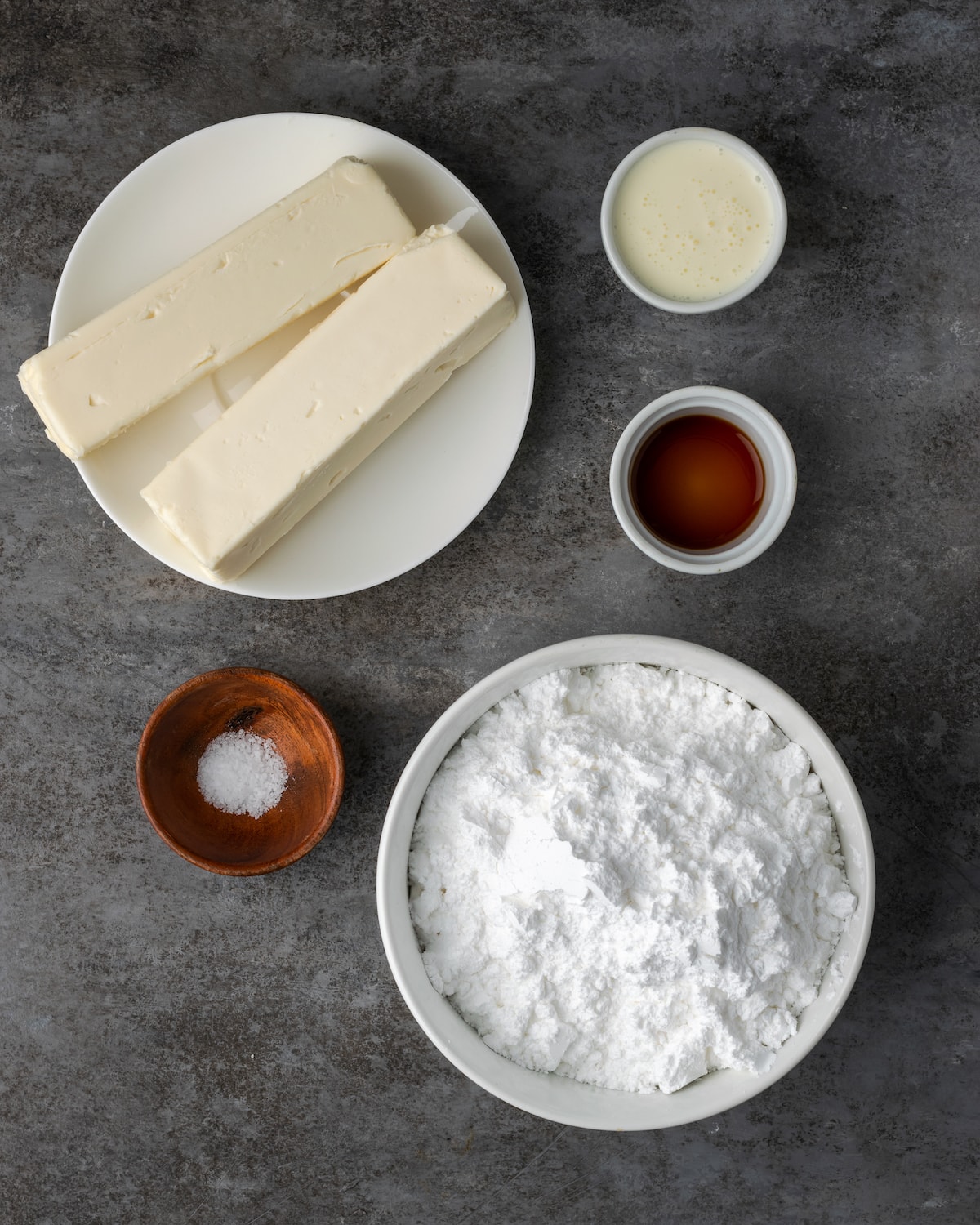 For the Frosting
Butter: Again, bring the butter for your frosting to room temperature.
Powdered Sugar
Salt
Milk: Whole milk or 2% milk has a good amount of fat content, to make the frosting extra creamy.
Vanilla Extract
You'll also need anything you'd like to use to garnish your cannoli cake. This is optional, but then again, who can resist decorating a gorgeous layer cake? Some suggestions are mini chocolate chips, mini cannoli, toasted almonds, or orange zest. I've also included more variations in the section further on!
How to Make It
This cannoli cake recipe comes together in three parts: the creamy mascarpone filling, the fluffy cake layers, and the homemade vanilla frosting. Let's get started: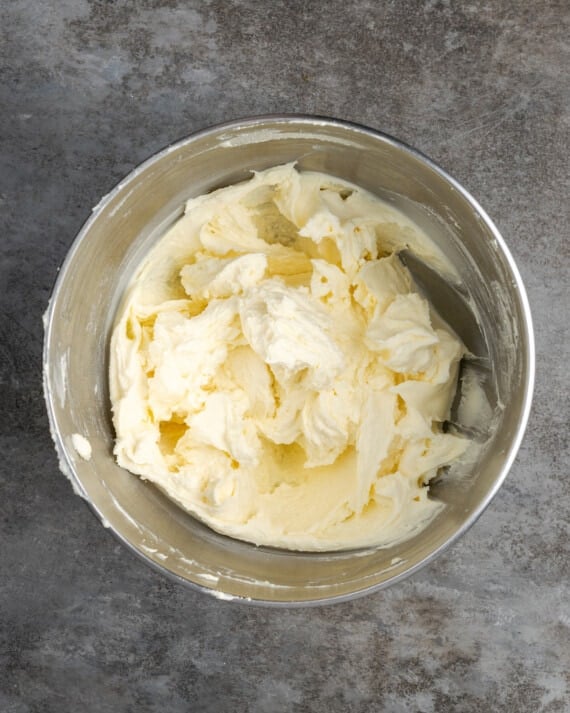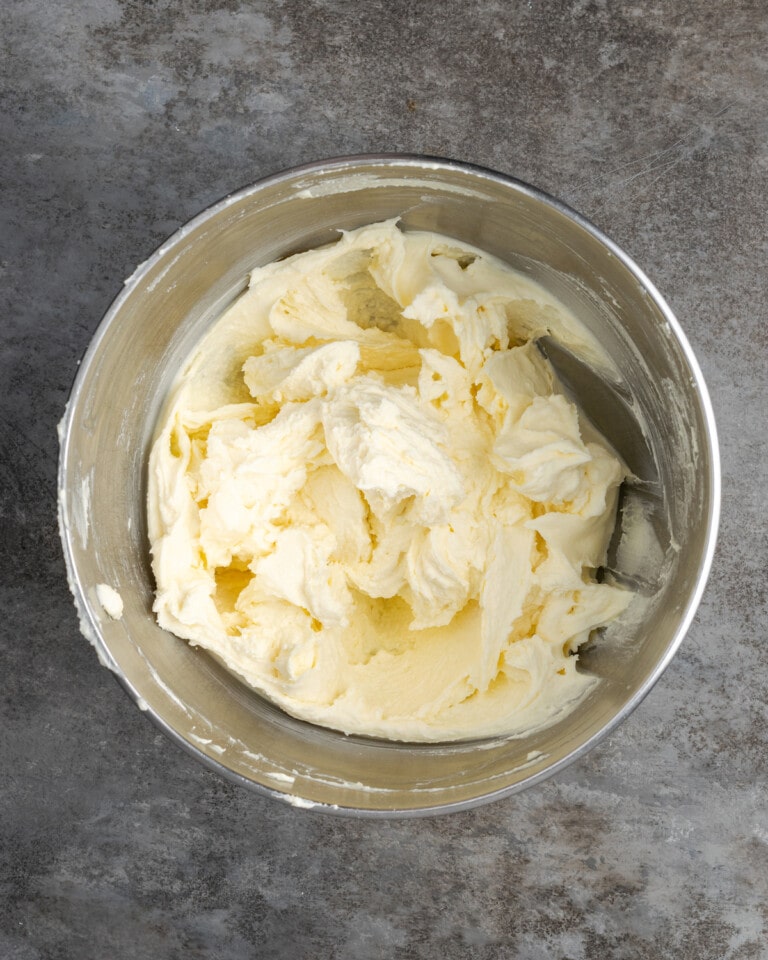 Prepare the Cannoli Filling: Mix the mascarpone with ricotta, powdered sugar, salt, and vanilla. Next, fold in the chocolate chips, and move the filling into the fridge to chill.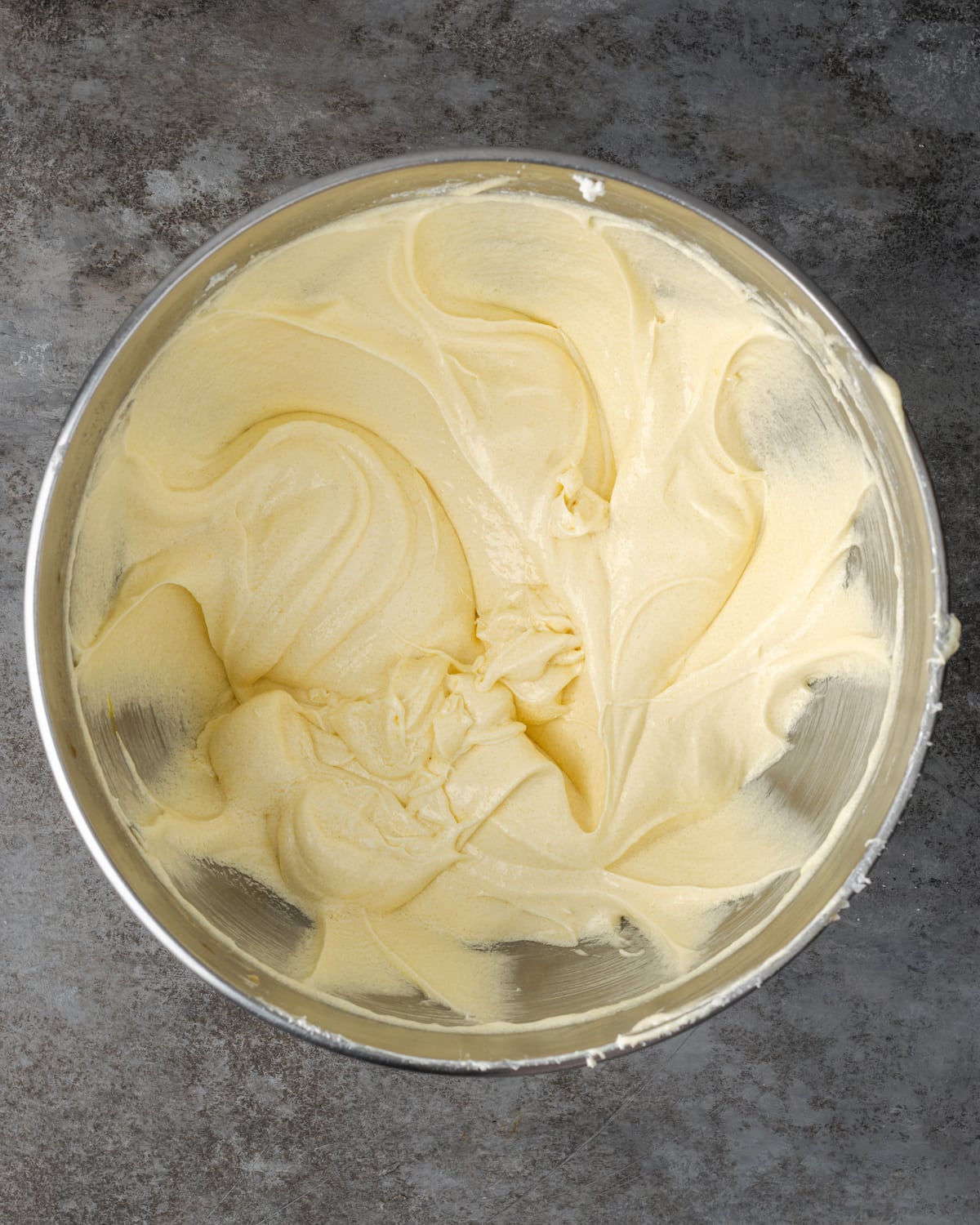 Make the Batter: While the oven preheats to 350ºF, cream the butter and sugar together. Continue to mix and add oil, eggs, vanilla, baking powder, then a pinch of salt. Once the mixture is smooth, alternate adding buttermilk and flour until combined. Remember to scrape down the sides of the bowl along the way!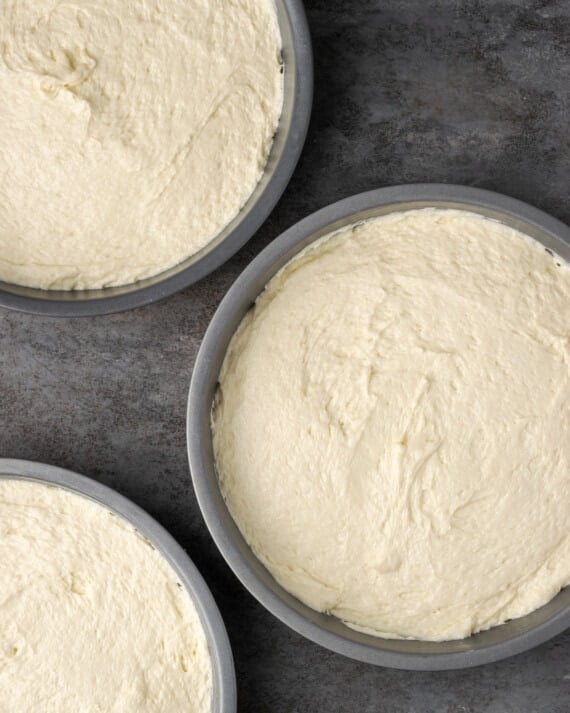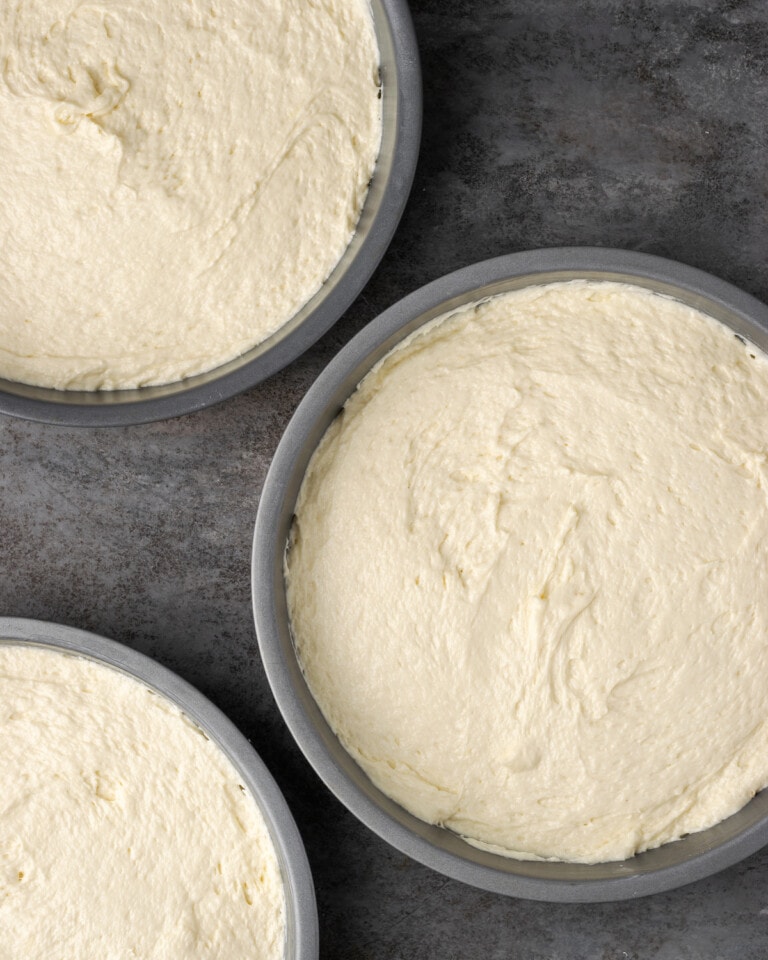 Bake: Divide the cake batter evenly between the 3 round pans lined with parchment paper. Bake until the centers of the cakes are set. This usually takes about half an hour, give or take, but keep an eye. The cakes are done when you can stick a toothpick into the middle and it comes out clean. Leave the cakes to cool in the pans for a bit, then remove them from the pans to cool completely before frosting.
Make the Frosting: Beat butter and sugar together, then add salt, milk, and vanilla, and mix until you have a creamy consistency. Now that your cakes, filling, and frosting are ready, it's time to assemble your cannoli cake!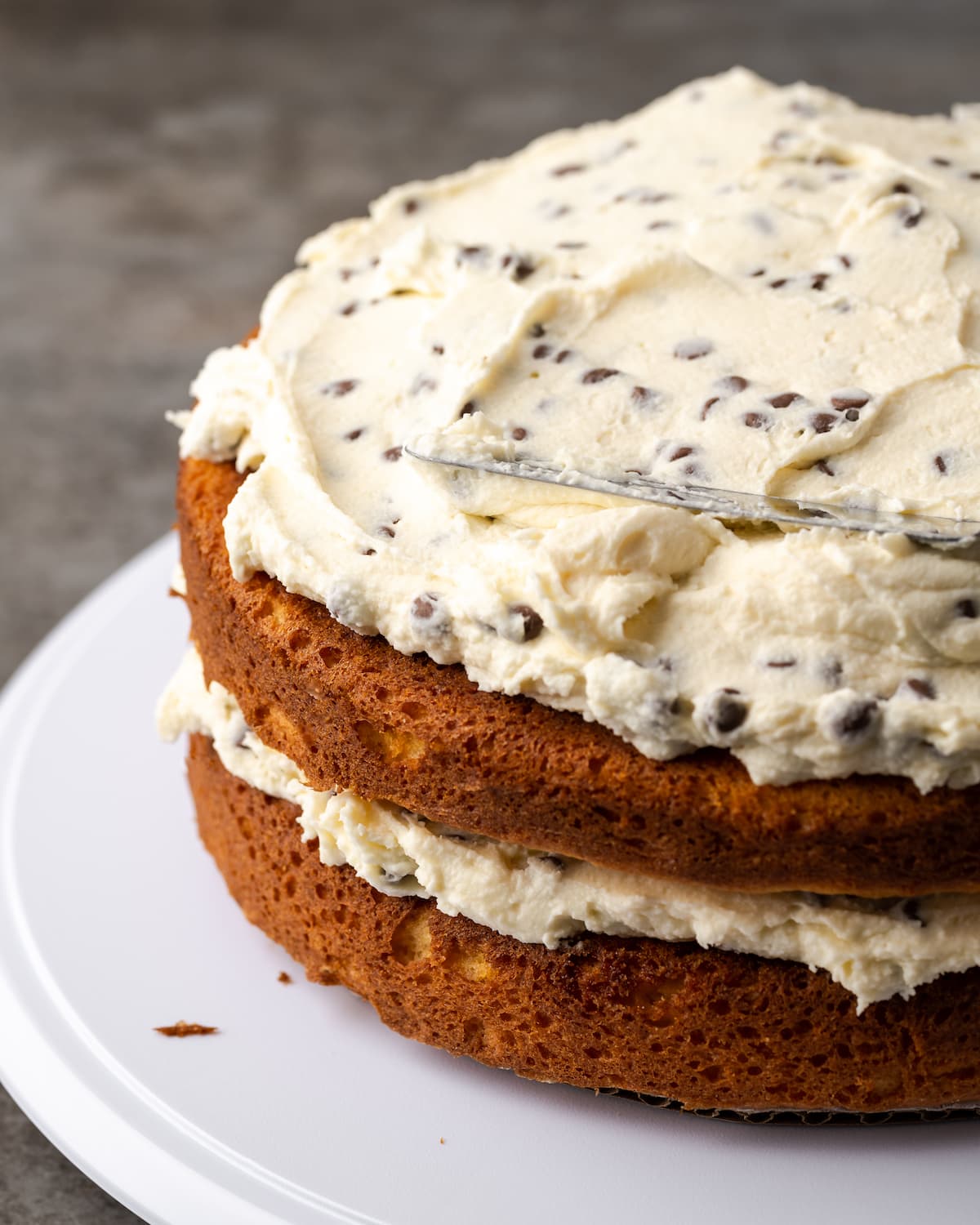 Assemble the Cake: Begin with the first cake layer, and top it with half of the chilled cannoli filling. Layer the second cake over top, followed by the remaining filling. Finally, top with the third cake layer. Using an offset spatula, spread the vanilla frosting over the top and sides of the cake to coat. Then garnish as you'd like! 
I can't resist an excuse to use my pourable chocolate ganache, so I went all out for the photos. I then topped my drip cake with chocolate chips and actual mini cannoli pastries from my favorite bakery. Anything goes! See the next section for even more ideas.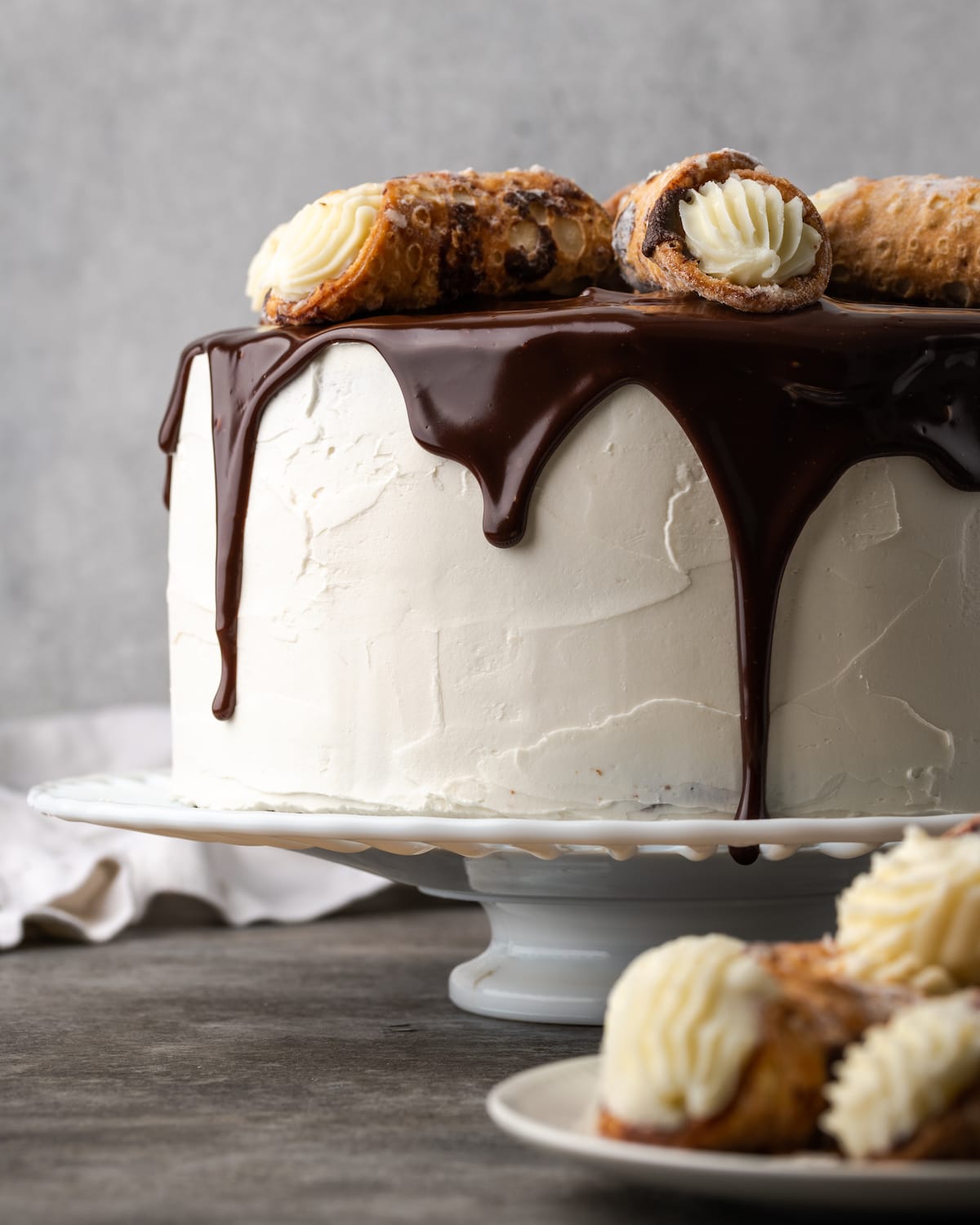 Helpful Hints and Easy Variations
How to Know If the Ricotta Needs Draining: Store-bought ricotta cheese often comes in brine or liquid. If you notice that the ricotta you have is dry inside the tub, you can skip draining it. Otherwise, to get rid of any excess moisture in the cannoli filling, you'll need to drain the ricotta first. To do this, place a sieve lined with cheesecloth over a bowl. Add the ricotta and let it drain, loosely covered, in the fridge for at least 4 hours (you can even leave it overnight).
Don't Overmix: Avoid over-mixing your cake batter. You want that batter nice and airy for deliciously soft, light cake layers. Be sure to only mix until the ingredients are just combined, as overdoing it can lead to a denser cake.
Make a Drip Cake: As you can see, this cannoli cake looks amazing as a drip cake! It's super easy to do using my pourable Chocolate Ganache Recipe. Highly recommend!
Toppings: You can be as modest or as all-out as you'd like when it comes to decorating your cake. Top your cake with a drizzle of Caramel Sauce or Easy Strawberry Syrup, crushed cookies, chopped nuts, whipped cream, or fresh fruit.
Frosting: Change up the vanilla frosting with other kinds of homemade frosting. Try my recipes for Heritage Frosting, Whipped Nutella Frosting, or even Perfect Party Frosting for a special occasion! You can also top your cake with swirls of buttercream (check out piping tips in my recipe for Creamy Chocolate Frosting).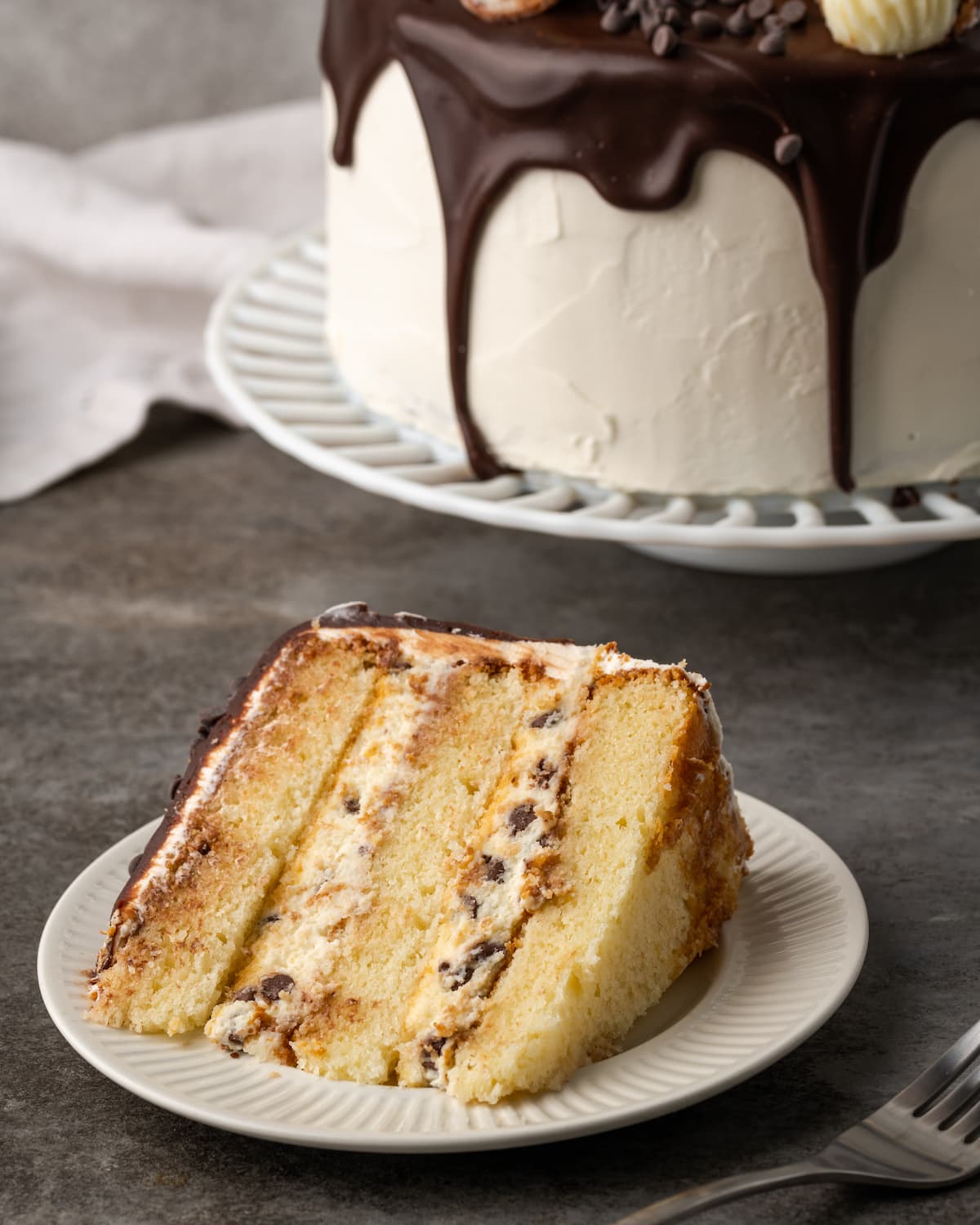 Does Cannoli Cake Need to Be Refrigerated?
Yes. All that cream calls for chilling! Store your cannoli cake airtight in the fridge for up to 3 days. To take the chill off for serving, take the cake out about 10-15 minutes beforehand.
Can I Freeze Cannoli Cake?
Yes, it's possible to freeze this cake. I recommend freezing it after it's frosted, but before you've gone ahead with any chocolate drips or garnishes. 
I also suggest letting the frosting harden in the fridge for a while before you wrap the cake. Once the frosting is set, wrap the cake in plastic wrap to keep frozen for up to 2 months. Thaw the cake in the fridge overnight before decorating and/or serving.
Print
---
Description
This irresistible Cannoli Cake recipe transforms a bakery favorite into an indulgent vanilla layer cake fit for a special occasion! Complete with creamy homemade chocolate chip mascarpone filling.
---
Cannoli Filling:
16 ounces

mascarpone cheese

1 cup

ricotta cheese, ricotta cheese, drained if needed

1 cup

powdered sugar

1/4 teaspoon

kosher salt

1 teaspoon

vanilla extract (or Grand Marnier)

1 cup

mini chocolate chips
Cake:
1 cup

salted butter, room temperature

2 cups

granulated sugar

1/4 cup

vegetable oil

4

eggs

1 tablespoon

vanilla extract

2 teaspoons

baking powder

1 teaspoon

kosher salt

3 cups

cake flour

1 cup

buttermilk
Frosting:
1 cup

butter, room temperature

2 cups

powdered sugar

1/4 teaspoon

kosher salt

2 tablespoons

milk

1 teaspoons

vanilla extract
Optional garnish – mini chocolate chips, mini cannoli, toasted almonds, orange zest
---
Cannoli Filling: In the bowl of your stand mixer fitted with the paddle attachment combine the mascarpone, ricotta cheese, powdered sugar, salt, and vanilla. Mix on medium speed until smooth. Turn the mixer to low and mix in the chocolate chips. Transfer to a bowl, cover, and chill until ready to use.
Cake: Preheat the oven to 350°F. Coat 3, 8- inch round cake pans with nonstick spray. Cut three pieces of parchment paper into 8- inch circles. Place the rounds in the bottoms of the pans. Coat again with nonstick spray. Set aside.
In the bowl of your stand mixer, fitted with the paddle attachment, mix the butter and sugar together for 2 minutes. Add in the oil, eggs, vanilla, baking powder, and salt, and continue mixing for an additional minute until smooth and combined, scraping the sides of the bowl as necessary to make sure everything is evenly mixed.
Turn the mixer to low speed and in alternating portions add in the buttermilk and flour, beginning and ending with flour. Mix for 30 seconds, until combined and smooth, again, scraping the sides of the bowl as needed.
Pour the cake batter evenly into each prepared pan.
Bake for 30 – 35 minutes, or until the centers of the cakes are set, and a toothpick inserted in the middle comes out clean.
Allow the cakes to cool in the pans for 10 minutes, and then remove the cakes and allow them to cool completely on a wire rack.
Frosting: In the clean bowl of your stand mixer fitted with the paddle attachment mix the butter and powdered sugar on low for 30 seconds to combine. Add in the salt, milk, and vanilla, and mix on medium speed for 1 – 2 minutes until creamy, scraping the bottom and sides of the bowl as necessary,
Assembly: Place one cake round on a platter. Top with half of the chilled cannoli mixture. Repeat with another cake round and top with the remaining cannoli mixture. Place the remaining cake on top.
Coat the sides and the cake with frosting. Garnish as desired.
---
Notes
Store airtight in the refrigerator for up to 3 days. Before serving, remove from the refrigerator and let sit for 15 minutes to take the chill off.
Another pretty decorating technique could be a drip cake using my pourable chocolate ganache recipe.
How to Know If the Ricotta Needs Draining: With most store-bought ricotta cheese you will need to strain it so that it's thicker when used for pastry filling. (If your ricotta already appears dry in the tub without a lot of excess moisture you can skip this!) Line a sieve with a cheesecloth and place it over a bowl. Loosely cover and allow this to sit in the refrigerator overnight. In a pinch, 4 hours will usually do the trick for this recipe, as you aren't using a large amount of ricotta.
Keywords: layer cake, vanilla cake recipe, easy vanilla cake recipe
Want To Save This Recipe?
Find more recipes like this:
More Fabulous Layer Cake Recipes
PIN for later: