This air fryer quesadilla is perfectly cheesy, gooey, and crispy, and made with simple ingredients. It's ready in minutes and easy to customize.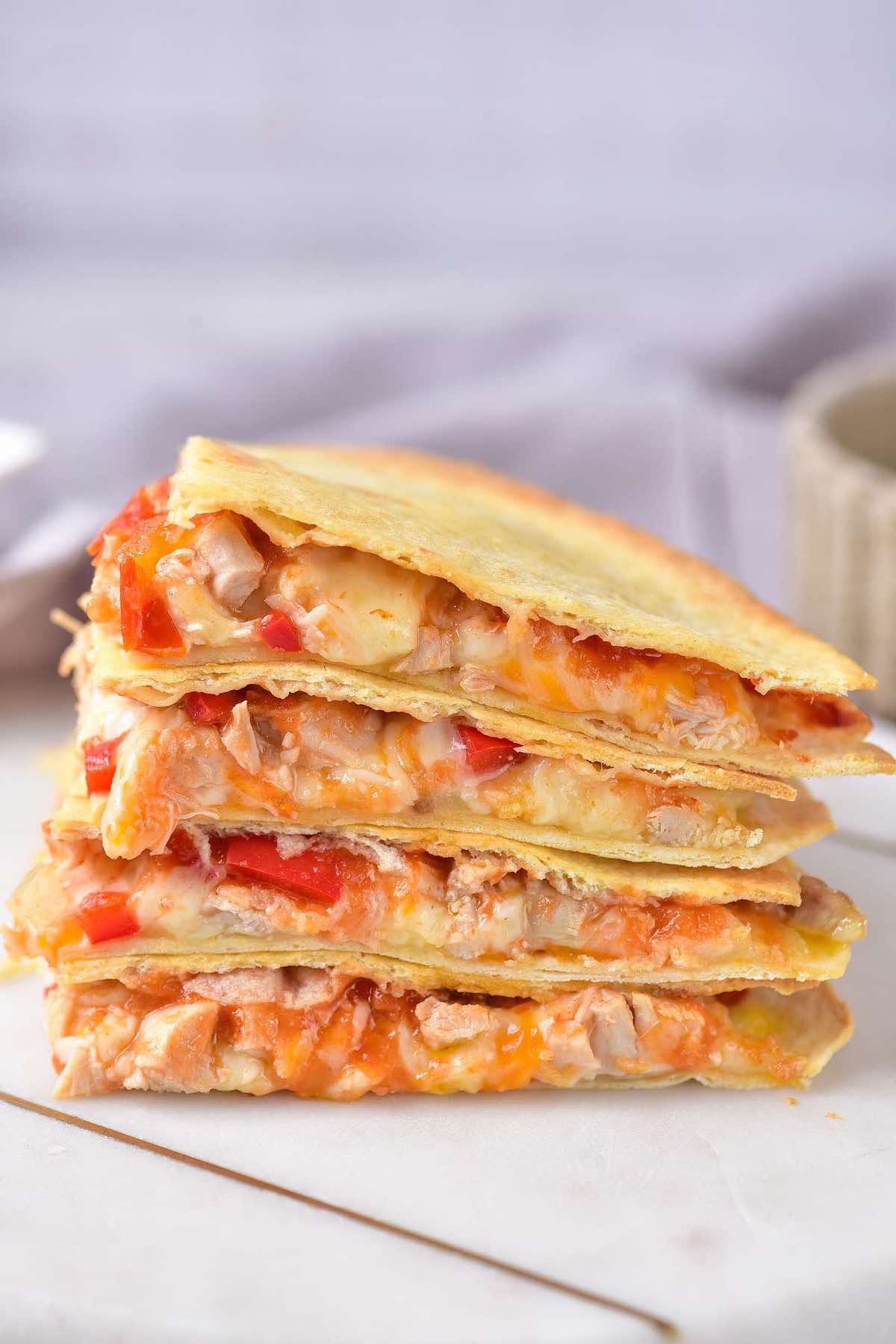 Air fryer is the most foolproof way to cook your favorite food in minutes and without needing to add much fat or oil. We've taken classic staples like burgers and grilled cheese and given them the air fryer maker. 
In the mood for Mexican food? This air-fried quesadilla will hit the spot!
Why you'll love this recipe 
Simple ingredients.

All your standard quesadilla fix-ins and, of course, your air fryer.

Easy to customize.

Like any good Mexican dish, you can use different protein, add more cheese, or even omit it completely.

Versatile.

Perfect as a fast dinner, lunch, or even a filling snack between meals.
What I love the most about this recipe is just how perfect the texture is: a crispy tortilla with plenty of cheese in the middle!
Ingredients needed 
As mentioned earlier, this recipe calls for very simple ingredients and pantry staples. Here is what you'll need:
Flour tortillas.

You can also use corn tortillas. 

Smooth salsa.

You can use any of your favorite salsa. 

Mozzarella cheese.

Shredded. 

Mexican cheese.

A mix of pepper jack cheese and American cheese.
Chicken breast.

Optional, but I love a good chicken quesadilla. You can omit this or add another protein.

Red bell pepper.

Diced. 

Onions.

Diced. 

Butter. To brush on the outside of the quesadilla for maximum crispiness.
Salsa and sour cream.

To serve. 
How to air fry a quesadilla 
Making quesadillas in the air fryer is easier than you think. Here is how you can make it like a pro: 
Step 1: Preheat the air fryer 
Preheat the air fryer to 200C or 400F for 5 minutes. 
Step 2- Prep the quesadillas
Place two tortillas on one side and two tortillas on the other side. On the left-sided tortillas, spread salsa. On the two tortillas on the right, add Mexican cheese, mozzarella cheese, chicken, red bell peppers, and onions.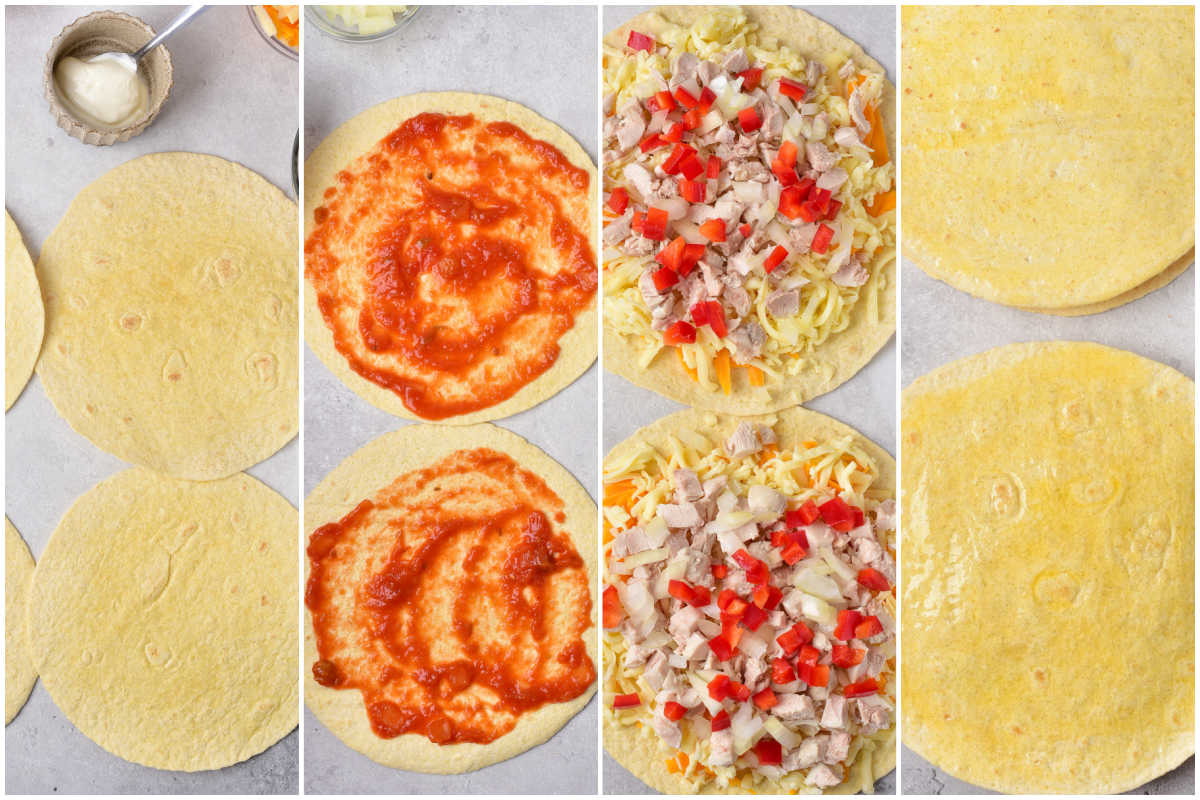 Step 3- air fry the quesadillas
Brush the top of the tortilla with the melted butter and place them in the air fryer basket, butter side up. Air fry for 4-5 minutes, or until crispy.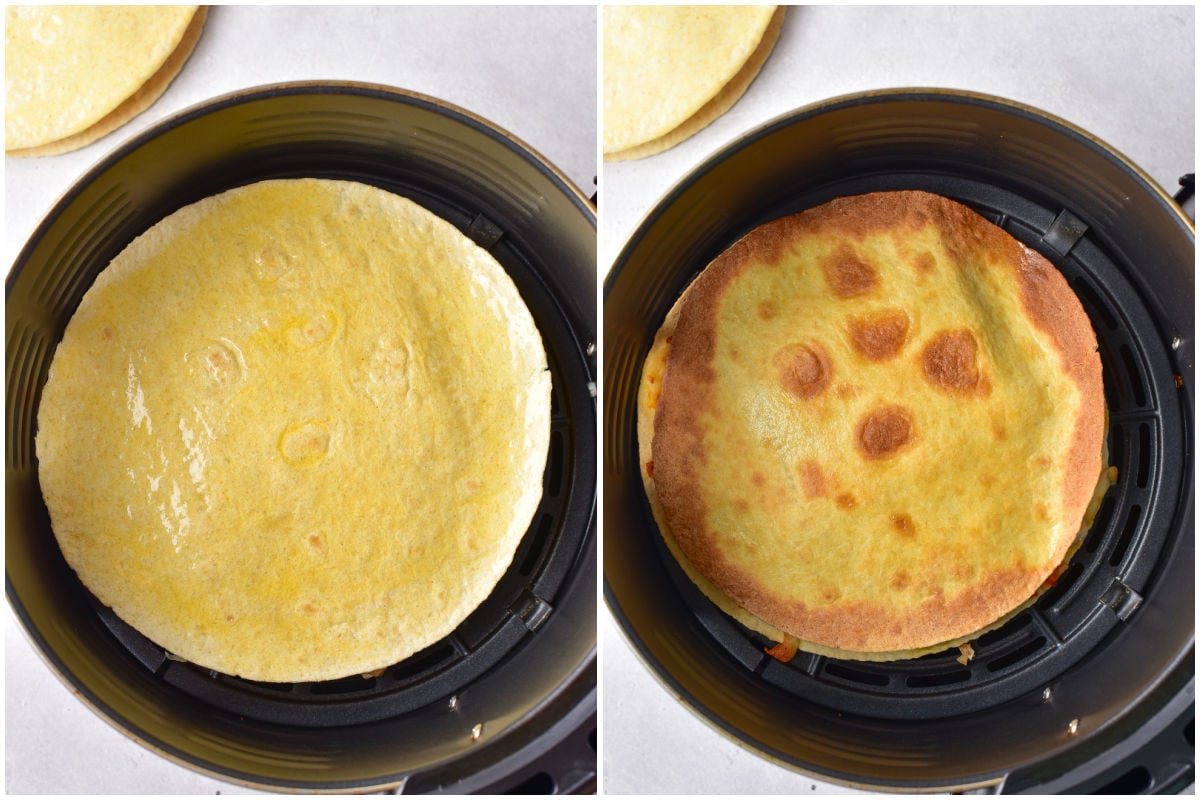 How do you heat up a quesadilla in the air fryer? 
Preheat the air fryer to 200C or 400F and put the quesadilla in the air fryer basket. Don't overcrowd the air fryer basket to heat the quesadilla evenly. 
Flavor variations 
Want to enjoy a different flavor? Here are some variations that you can try: 
Add heat.

You can add jalapenos or pepper jack cheese to add more heat to the quesadilla. 

Change up the protein

. Swap out the chicken for some ground beef, steak, fish, or even some tofu. 

Make it sweet. Instead of the savory fillings, try banana and peanut butter, or for something sinful, strawberries and Nutella. 
Tips to make the best recipe
Keep a firm eye on the quesadilla towards the end of the cooking process to ensure the tortilla doesn't become too crispy.
F

or cheesier quesadillas, grate the cheese yourself instead of using pre-shredded cheese because pre-shredded cheese doesn't melt as well. 

Consider inserting

a toothpick in the quesadilla to prevent it from opening up once flipped.
Storage instructions 
Got leftovers? Here are the best tips for storing them: 
To store:

Store in airtight containers in the refrigerator for 3-4 days.

To freeze: Use freezer-safe bags or containers to freeze for up to 3 months.
Reheating: Reheat in the air fryer or non-stick skillet. Avoid microwaving the quesadilla as it will become soggy.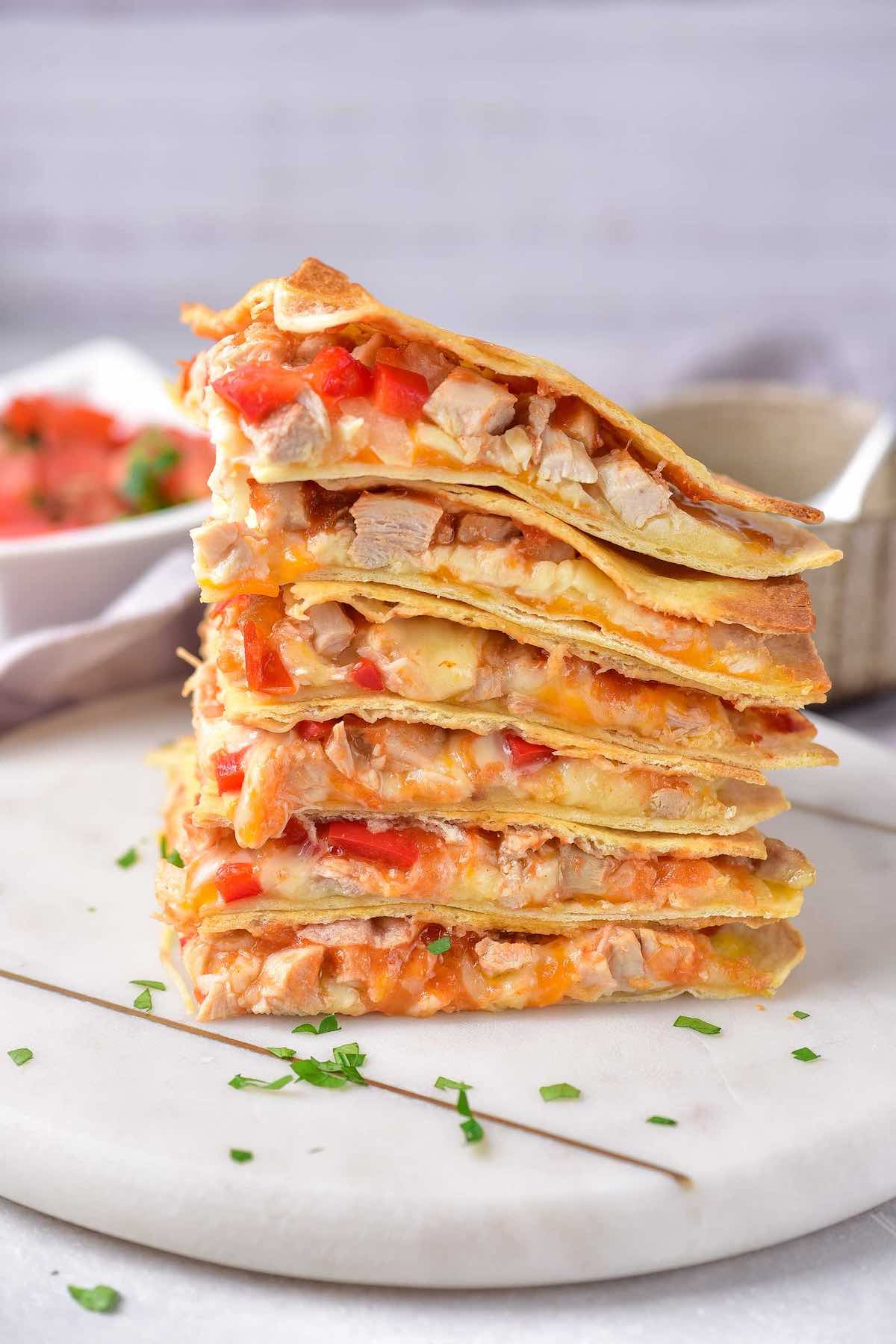 Frequently asked questions
Can tortillas be cooked in the air fryer?
Yes, you can cook tortillas in the air fryer. If you use smaller ones, be sure to keep an eye on them as they crisp up very quickly. 
Is this recipe gluten-free?
When made with gluten-free tortillas, these quesadillas are suitable for those who are celiac.
Can I use corn tortillas?
Flour tortillas hold up better in the air fryer but corn ones can be used, provided you hold them together with a toothpick.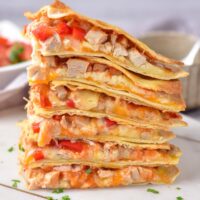 2

8-inch

flour tortillas

2

tablespoons

salsa

1/4

cup

mozzarella cheese

1/4

cup

Mexican cheese

1/4

cup

chicken breast

pre-cooked and chopped

1/4

small

bell pepper

chopped

1/8

small

red onion

finely chopped

1/2

tablespoon

butter

melted
Preheat the air fryer to 200C/400F for 5 minutes. 

Place the two tortillas side by side. 

On the tortilla to the left, spread the salsa on it. On the tortilla on the right, add mozzarella cheese, Mexican cheese, chicken, red bell peppers, and onions.

Place the tortilla with the salsa on top of the cheese/chicken one. Press down quite firmly to prevent it from flipping off in the air fryer. 

Brush the tops of the tortilla with melted butter.

Place the tortilla in the air fryer basket and cook for 4-5 minutes, or until lightly golden brown. 

Remove the quesadilla from the air fryer basket and cut it into 4 portions.
Serving: 1serving | Calories: 141kcal | Carbohydrates: 14g | Protein: 8g | Fat: 6g | Sodium: 358mg | Potassium: 116mg | Fiber: 1g | Vitamin A: 310IU | Vitamin C: 6mg | Calcium: 155mg | Iron: 1mg | NET CARBS: 13g