Readers Say

"Great views, food and drink, and THE BEST people watching!"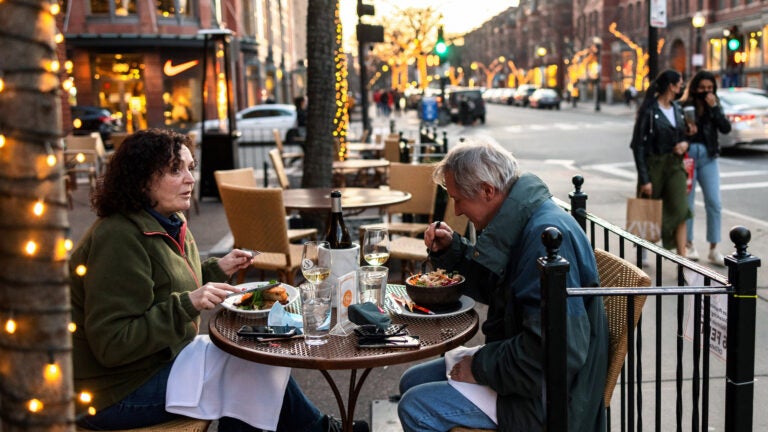 The return of outdoor dining season couldn't have come at a better time for Boston.com readers. 
These bars and restaurants near the finish line are offering Marathon Monday specials

The city's outdoor dining program began for most neighborhoods on April 1, just as COVID-19 rates have slowly ticked upwards in Boston and across the country.
We asked readers to send us their favorite outdoor dining experiences in Greater Boston, and they shared their favorite restaurants and what made the experience unlike others in the city.
One Boston.com reader, who recommended the patio at Temazcal Tequila Cantina in the Seaport, said he feels safer dining out if he can do so outdoors. "Positivity rate is above 5% in Boston now, and outdoor dining would be a safer way to eat out," he wrote. "Dining in a 'small intimate dining room' is too dangerous to health during COVID."
Another reader said they'd be dining outdoors in the North End.
"The entire neighborhood has an open, friendly atmosphere," the reader said. "Felt like I was in Italy!"
Although the neighborhood has been at the center of a contentious debate around an outdoor dining fee for restaurants, readers are still eager to enjoy a meal from one of the many local businesses as the weather gets warmer. 
Ahead, we put together a reader-recommended guide and interactive map of the best patios to enjoy outdoor dining during the spring and summer months. Tell us your recommendations below and we'll add it to the list.
The best restaurants for outdoor dining in Greater Boston, according to readers
Antonio's Bacaro is both a restaurant and a Venetian-style wine bar that boasts a made-from-scratch menu. Elizabeth B. from Hyde Park described the outdoor patio as a "city oasis."
Cozy but comfortable, nestled behind the restaurant. Awesome outdoor atmosphere. Joe Garufi did an amazing job of extending his restaurant to the outside. Food atmosphere and staff are all amazing every time!

— Elizabeth B., Hyde Park
If you want to have fun while you enjoy your meal, head to Beehive, where you get specialized brunch, cocktails, and live music with your patio dining.
"Great food and service, fun atmosphere in and out."

— Esta E., Back Bay
Although these are two separate eateries, they share a patio space in Brighton. Visit Brighton Bodega for its Asian-inspired small plates and Devlin's for the drinks menu. While you're there, you may get to experience some live jazz. 
"These sister restaurants in Brighton share a lovely patio area set back from the street with a good vibe and excellent food! I love the constantly changing and always creative Brighton Bodega menu, and the steady favorites menu of Devlin's."

— Wendy, Cambridge
Chart House (60 Long Wharf, Boston)
Chart House has served hungry patrons in the Boston area for more than 60 years and continues to do so with its patio dining experience and "perfect views." 
"It is not in a too-crowded area. [It's] not amidst cars and too many passersby, so you can hear the water and the silence once in a while. There is valet parking at the back so I can drive in, dine, and drive out."

— Lissa W., Uxbridge
Outdoor dining is becoming more popular in Boston, but there's something about it that feels very European, especially at this South End spot. Sit out on the patio for its modern French menu and wide selection of wines.
"It's just the best. Great views, food and drink, and THE BEST people watching!"

— Chris H., Boston
Horse Thieves Tavern is located in historic Dedham Square and serves classic New England dishes with a modern twist. Readers said the food never disappoints and the view outside can't be beaten. 
"Casual and relaxed vibe south of the city. Food is great, something for everyone in your group, and the outdoor patio they had last summer was a great spot under the stars and a cool glow from the old-school neighborhood cinema across the way."

— Alexis H., Dedham
"They are right next to lots of cool things and have an awesome view."

— Lucas W., Brookline
You can't talk about outdoor dining in Boston without talking about the North End, and readers say Lucia Ristorante gives one of the best patio dining experiences in a neighborhood with pretty stiff competition. 
"Lucia uses the outdoor courtyard at St. Stephen's so you are set in this beautiful historic space, away from the street and under trees and string lights overhead. Absolutely magical."

— Mary R., North End
Mamma Maria (3 North Square, Boston)
Mamma Maria is a North End establishment located in a charming 19th century row house. At this Italian restaurant, you'll find fresh, locally-sourced ingredients and a great ambiance to enjoy them.
Amazing outside space, plenty of room, in a beautiful part of the North End. It feels like dining out in Rome. 

— Joe A.
Moody Street (Waltham)
Waltham will close down sections of restaurant-lined Moody Street to all traffic from May 1 through October 31 so residents can fully enjoy their patio dining experience. The idea was first introduced during the pandemic but has since become a much-loved part of Waltham's summer dining scene. 
"The street closes all summer, and the restaurants build incredible outdoor setups, complete with cherry blossom trees, light fixtures, comfy chairs, etc. Some of the most amazing restaurants in all of Boston are on Moody Street, and they offer a bunch of options in terms of kinds of food."

— Kelly, Waltham
Another taste of Europe in the city comes from Petit Robert Bistro, where Parisian and Gallic dishes have been served in a patio setting long before the pandemic. 
"They were doing it pre-pandemic! They followed the model of the Parisian bistro perfectly. Not to mention the food is delicious." — John, South End
ReelHouse (multiple locations)
ReelHouse is a harborside restaurant with locations in East Boston and Quincy that serves New England fare "with powerful flavors from around the world." If you want to walk off your meal afterward, both restaurants offer patios located along the waterfronts of East Boston and Marina Bay. 
"Best views of Boston, lots of walking paths right next to it with the Boston cityscape."

— Ashley, Charlestown
At Sophia's Grotto, the cobblestone patio is tucked away inside a courtyard so you can enjoy your Italian meal removed from the hustle and bustle of any main streets.
"They have a phenomenal outdoor patio, far from the street, which is spacious, cobblestoned, and surrounded by trees and fairy lights. The food is fantastic as well. The whole experience is a treat."

— Anna K., Jamaica Plain
Stephanie's on Newbury is located on one of Boston's most popular streets, which makes it a great place to grab a meal during a day of shopping. The restaurant specializes in New American patio dining. Reader Preston R. from Back Bay said he appreciates that they don't use up resident parking spaces to give a great outdoor dining experience.
The patio at this Boston mainstay was among the most recommended by readers who said they loved getting classic New England fare and taking in some historic Boston sights. 
"Lovely outdoor set up with same wonderful cuisine as indoors with no worry about COVID. 5 stars!"

— Kathleen H., Middleton
"It is so charming. I love looking around and seeing the Boston skyline."

— Kim A., Lynnfield
"The patio is set up perfectly right out front of the historic Oyster House and its bustling with activity, right on the Freedom Trail."

— Greg B., Lynnfield
At Washington Square Tavern, the beers and wine are free flowing, which makes it a perfect spot for a bite to eat with friends on a warm evening. 
"Covered outdoor dining, heaters for every table, and great food and wine!"

— Rachel, Brookline
Dinner with a view is guaranteed when you visit the patio at Woods Hill Pier 4, where readers say you can enjoy a great meal alongside a spectacular view of the city. 
"The food and drinks are excellent, especially the frosé! The patio is very roomy. I think it's the best view in Boston looking over the water."

— Karen, Atkinson, N.H.
"Outdoor dining at the end of Pier 4 in the Seaport. Need I say more? It feels like you are literally eating on the water. Not to mention the food is great as well, although it is not cheap. Great, special occasion spot!"

— Conor, South Boston
---
Tell us: What's the best outdoor dining experience in Greater Boston?
Best outdoor dining in Boston